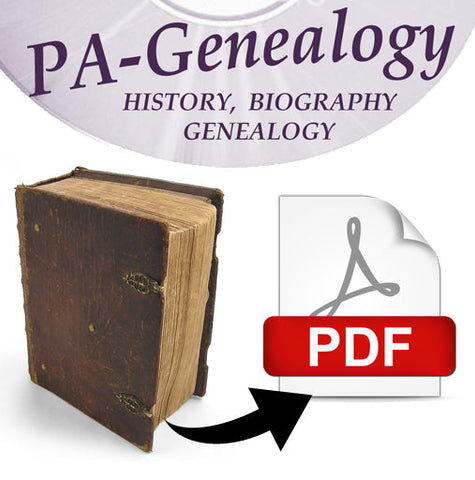 Schuylkill County, PA - Regional History Collection - Pine Grove-Tower City & Vicinity
This is a collection of various historical and genealogical reference works on Pennsylvania. These references cover 1000's of individuals, and are an excellent way to start or continue research focused on PA.
This material was scanned from original publications and will be provided as PDFs. You will receive an email with the download link after purchasing online. These files can be read using many PDF reader programs (Windows / Mac / Linux), however Adobe Reader or Acrobat are recommended. Unless notes, each of these files are text-searchable.
History of Reilly Twp. (J. H. Zerbey Newspapers Inc., 1935, 30 pages)
This is a brief history of Reilly Township (including Blackwood, Branchdale, Newtown and Swatara), Schuylkill County, PA, originally published in Zerbey's History of Schuylkill County and newspapers of the area. The information covers its beginnings, and then some of its institutions and organizations, such as churches, schools, banks, industries, etc. It also includes a list of war veterans from the area.
History of Pine Grove, Schuylkill County, Pennsylvania (Judge George B. Haas, 1935, 351 pages)
This is an extensive history of the Pine Grove area of Schuylkill County, PA. It covers the era of settlement, founding of the town, its development and so on. In the course of the narrative, it touches on many of its residents sometimes casually and sometimes in depth. This is an excellent reference for historical or genealogical research in the Pine Grove, PA area.
Surnames Indexed:
Achenbach, Adams, Albert, Albright, Anderson, Angst, Aycrigg, Barr, Barto, Bartram, Battdorf, Bautsch, Beck, Berger, Bernhard, Bohr, Bonawitz, Bortz, Boyer, Brenner, Bressler, Bretz, Brommer, Brown, Buechler, Campbell, Christ, Christeson, Daubert, DeTurk, Diehl, Dienger, Ditzler, Dollinger, Drine, Dubbs, Dutter, Eckert, Eckler, Emrich, Engel, Ernest, Ernst, Everhart, Fegley, Fehr, Felty, Fetter, Filbert, Fisher, Fitzgibbons, Forrer, Fox, Francis, Fry, Geiger, Gensemer, Gilbert, Glick, Gotschall, Graeff, Greichbaum (Kriechbaum), Groh, Gunkel, Haak, Haas, Haldeman, Hartman, Haug, Hautz, Heberling, Heiser, Heisler, Henninger, Hess, Hetrick (Hedrick), Hetzle, Heydrick, Hikes, Hoffman, Horsefield, House, Houtz, Huber, Hubler, Hummel, Jones, Kayser, Kendall, Kissinger, Kitzmiller, Klein, Klinger, Koch, Kraemer, Krimmel, Kunz, Kurtz, Landenberger, Leffler, Lehman, Leiby, Lerch, Ley, Long, Lutz, Manbeck, Manwiller, Martin, Maurer, Mengel, Mengle, Merkel, Miller, Minnich, Molly, Moore, Moyer, Munch (Minninch), Nagel, Ney, Nungesser, Oliver, Paine, Parsons, Paxson, Peach, Penn, Rausch, Read, Reber, Reed, Rehrer, Reinbold, Reinhart, Reith (Reed), Rhoads, Rickel, Robinson, Roeder, Sarge, Schnoke, Schucker, Schwalm, Seidel, Shaffer, Sheidy, Sherman, Shropp, Shultz, Slappich, Smith, Snyder, Spancake, Spangler, Spengler, Spycker, Stahl, Stees, Stein, Stine, Strimphler, Stroh, Strouch, Ulrich, Umbehacker, Umbenhauer, Updegrave, Wade, Wagner, Weber, Weiser, Werner, Wheeler, Wolf, Yoder, Zerbe, Zerby, Zimmerman
Report and Directory of St. John's Evangelical Church,
Hegins, PA. 1939-1940 (Anonymous, 1939, 12 pages)
This is a financial report of the church along with a directory of its members for the year 1939-40.
---
We Also Recommend
---