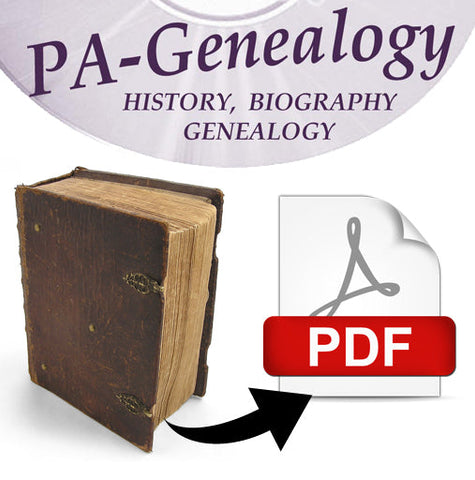 Perry County, PA - Miscellaneous History & Maps Collection
This is a collection of various historical and genealogical reference works on Pennsylvania. These references cover 1000's of individuals, and are an excellent way to start or continue research focused on PA.
This material was scanned from original publications and will be provided as text searchable PDFs (unless noted in description). You will receive an email with the download link after purchasing online. These files can be read using many PDF reader programs (Windows / Mac / Linux), however Adobe Reader or Acrobat are recommended.
Church, Family, Education, Military and Miscellaneous Histories
Churches Between the Mountains. A History of the Lutheran Churches in
Perry County, Pennsylvania (Rev. D. H. Focht, 1862, 420 pages)
From the Preface:
"Until a late date no church-records were kept by most of the older congregations, and as the aged who had some knowledge of their early history were passing rapidly away, it was thought that something should be done, and done soon, to rescue from oblivion the history of those congregations; it was thought, also, that such a history would be interesting and instructive to the present and future generations."
This publication is a history of the early Lutheran Churches in Perry County, PA. The churches include: Lebanon Church at Loysville, Mount Zion Church in Spring Township, Ludolph's (Germany) Church in Spring Township, Christ's Church at New Bloomfield, St. Andrew's (Shuman's) Church in Saville Township, St. John's (Bealor's) Church in Juniata Township, the Lutheran Church at Newport, the Lutheran Church at Mansville, Zion Congregation at Blain, St. Paul's Lutheran Church in Madison Township, Emanual Church in Saville Township, Lutheran Church in Henry's Valley Jackson Township, Christ's (Lutheran) Church at Petersburg, Mount Zion Church in Rye Township, Mount Pisgah Evangelical Lutheran Church in Carroll Township, St. David's (Billow's) Church in Wheatfield Township, Church near New Buffalo in Watts Township, Congregation at Liverpool, Christ's Church in Liverpool Township, St. Michael's Church in Greenwood Township, St. Jame's Church in Greenwood Township, Zion Lutheran Church at McKee's Half-falls, Snyder County, St. Samuel's Church at Millerstown, Centre Evangelical Lutheran Church in Buffalo Township, Tuscarora Evangelical Lutheran Congregation in Tuscarora Township.
Genealogy of the Ludwig Bretz Family 1750-1890
(E. W. S. Parthemore, 1890, 150 pages)
This is a genealogy of Ludwig Bretz who settled in Upper Dauphin County. Many of his descendants settled in Perry, Juniata and Snyder Counties, particularly the Meck and Bogar families.
History of the Gable Family (Anonymous, 1902, 80 pages)
This is a history and partial genealogy of the Gable family. This family first settled in Lancaster, but later relocated to Perry County.
An Incomplete Directory of the Descendants of My
Grandparents (A. R. Johnston, 1915, 73 pages)
This is a historical and genealogical account of the authors relatives, residents of Perry County. It includes primarily the families of Johnston, Anderson, McCord, Russell, and Armstrong.
75th Anniversary Program - St. Paul's Lutheran Church,
Newport (Rev. W. C. Ney, 1919, 9 pages)
This is a program of the church's 75th Anniversary celebration, as well as a brief history of it's life. It includes a list of previous pastors and church officials, and a page of portraits of its pastors from 1844-1919.
1814-1939 - One Hundred Twenty-Fifth Anniversary of the Founding of
Snyder's Church, New Bloomfield, Pa. (Anonymous, 1939, 5 pages)
This is a brief historical souvenir of the church, featuring a historical sketch and some photographs, as well as a program of church services.
Antiques are the Bunk (W. B. Yeats, ~1940's, 24 pages)
This pamphlet was probably published in the 1930's or 1940's and relates the stories of several antique items that at the time were in the possession of the Amity Hall Inn of Perry County, PA. The persons who originally owned these items are discussed in their respective stories: Moses Kirkpatrick, Isaac Kirkpatrick, Robert McCoy, Adeline Brown, Isaac Newton Brown, Yohann and Mary Probst, John Wister, Jacob Schneider, Nathaniel Smith, James and Mary McCullough.
Directory of the Millerstown-Liverpool Charge of the
Methodist Church - 1945 (Elmer Ritzman, 1945, 41 pages)
This is a directory of the church organizations and membership of the Perry Co., PA churches which made up the Millerstown-Liverpool Charge for the year 1945. It contains a picture of each church, a list of past and present pastors, church organizations with a list of those who served in them, membership roles, and a list of those serving in WWII from each church. The churches included are: Millerstown Methodist Church, Liverpool Methodist Church, New Buffalo Methodist Church, Donnally Mills Church, and Marsh Run Church.
Flood Pennsylvania - 1972 (Timothy E. Euker, David Berner, 1972, 68 pages)
This is a pictorial souvenir of the flood from Hurrican Agnes which struck central Pennsylvania and other areas in 1972. Photographs show the floodwaters and damage done in various locations in Clinton, Cumberland, Dauphin, Lancaster, Luzerne, Lycoming, Perry, Montour, Northumberland and Snyder Counties.
Maps Atlases & Images
Maps & Atlases (***Not Text-searchable***)
1863 Map of the Counties of Perry, Juniata and Mifflin, Pennsylvania (Smith, Gallup & Hewitt, Color)
1877 Atlas of Perry, Juniata and Mifflin Counties, Pennsylvania (Pomeroy, Whitman & Co., 55 pages, Color)
Birds-eye Town Views (***Not Text-searchable***)
Newport, Perry County, Pennsylvania (1895, T. M. Fowler & James B. Moyer)
View of Duncannon Pennsylvania (1904, T. M. Fowler)
---
We Also Recommend
---