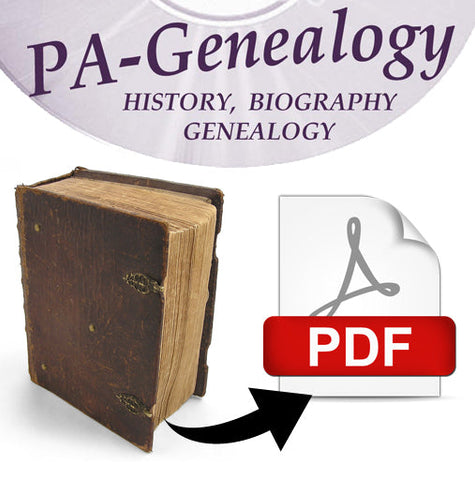 Lancaster County PA - Regional History Collection - Lancaster City
This is a collection of various historical and genealogical reference works on Pennsylvania. These references cover 1000's of individuals, and are an excellent way to start or continue research focused on PA.
This material was scanned from original publications and will be provided as text searchable PDFs (unless noted in description). You will receive an email with the download link after purchasing online. These files can be read using many PDF reader programs (Windows / Mac / Linux), however Adobe Reader or Acrobat are recommended.
1848 Plan of Lancaster City (J. Franklin Reigart, Color)
This is an early map of the city of Lancaster and vicinity. It shows the general layout of the city with streets, railways and lots. Along the perimeter is a wealth of current (1848) city information.
Lancaster and Its People (I. S. Clare, 1892, 132 pages)
The full title of this publication is: Lancaster and Its People, An Account of Lancaster, PA. Its Past and Present; Its Future Possibilities; History of the City; Its Present Condition, Commercially, Financially, Industrially; Its Literary, Professional and Religious Life; Its Historical and Political Importance, Etc., Being a Compendium Illustrating the Progress and Development of Its Resources, Industries and Business Life; Its Railroad Connections and Public Conveniences. With a Description of Industrial Enterprises. Included with the historical information are numerous ads for local businesses.
History of the First Methodist Episcopal Church of the City of
Lancaster, PA from 1807-1893 (John S. J. McConnell, 1893, 171 pages)
This is a history of this historic Lancaster County, PA church, covering its formation and growth over the years. It also contains an account of early efforts to establish Methodism in the County.
Historical Sketch of St. Anthony's Church, Lancaster, 1870-1895
(Anthony F. Dorley, 1895, 81 pages)
This is a brief history of the church published for its 25th Anniversary. It also contains a history of the Sacred Heart Academy and St. Anthony's Parochial School.
Fortieth Anniversary Souvenir - Christ Evangelical
Lutheran Church 1867-1907 (Anonymous, 1907, 107 pages)
This is a history of the Christ Evangelical Lutheran Church of Lancaster, PA. It relates the story of its formation and 40 years of existance. It presents brief biographies of several early pastors: Charles Stanley Albert, David H. Geissinger, John W. Rumple, C. E. Haupt and E. L. Reed. It also contains a list of church officers and teachers through the years.
Souvenir of Lancaster (L. H. Nelson Company, 1908, 33 pages)
This publication was produced as a souvenir of the city of Lancaster, PA. It contains about three dozen photographs of historic buildings or locations around the city.
The City of Lancaster - Lancaster County, Pennsylvania
(The Lancaster Board of Trade, 1909, 95 pages)
This publication was produced to highlight the city of Lancaster in Lancaster County, PA. It discusses the various industries and organizations located within the city and includes numerous pictures of its historic buildings. It also includes historical and biographical details on many prominent men and proprietors of the city.
Sketches:
Frank W. Woolworth, Newton E. Rutter, Harvey C. Rutter, Charles E. Rutter, P. T. Watt, James Shand, B. F. Good, S. A. Knapp, J. W. Brenneman, Jos. F. Bruederly, Frank Bowman, W. S. Leinbach, John C. Soutter, James Buchanan, Geo. A. Young, Henry M. Myers, Frank J. Shroad, J. K. Leaman, Adam P. Gable, John J. Blair, B. Frank Witmer, D. G. Martin, Samuel G. Roth, Milton H. Ranck, Byron Franks, W. Y. Haldy, J. Darmstaetter, Jno. T. Gephart Jr., H. E. Hendren, B. B. Martin, C. J. Dochat, William F. Diller, Ellis Pickel, Simon Shissler, F. A. Long, R. M. Reilly, H. L. Raub, M. T. Garvin, J. H. Baumgardner, S. E. Baily, Edwin T. Wade, D. L. Harnish, B. F. Barr, Wm. R. Cheny, Jno. R. Burkholder, R. P. Antes, D. D. Nein, H. H. Fisher, F. H. Shaw, Adam Pontz, F. C. Musser, Christopher Hager, Walter C. Hager, William H. Hager, Edward Edgerley, R. P. McGrann, John F. Derr, Chas. Draper, J. F. Hoenninger, John J. Thompson, John Piersol McCaskey, H. B. Lippold, Fred. E. Groff, C. Wise, J. V. Wise, Miss E. Humpreville, Mrs A. E. Cannon, Geo. K. Hoffmeier, Chas. S. Hoffmeier, S. M. Myers, H. M. Bartholomew, John Slater, Wm. R. Cooper, Samuel K. Landis, H. Holmes Boyd, J. Harold Wickersham, Young & Gast, I Steinfeldt, J. W. Johnson, Christine Kunzler, John H. Borger, S. M. Skeen, Abram Scheetz, D. F. Magee, Julius A. Roehm, John J. Bowman, Charles Ezra Bowman, Ezra E. Sieber, George Wolf, John C. Horting, Wm. Slaugh, John G. Sieber, D. Frank Kline, W. Bomberger, R. Bomberger, James P. Martin, H. P. Martin, Hamilton J. Miller, Ed. Westenberger, W. W. Maley, H. G. Myers, G. W. Messner, I. L. Wenger, George N. Reynolds, Charles H. King, J. D. Hocking, M. L. Matz, H. K. Palmer, Wm. B. Altick, Wm. Blickenderfer, H. Gerhart, Amos S. Gingrich, L. R. Raezer, B. P. Miller, Samuel D. Bausman, Jeremiah Rife, Frank S. Everts, E. S. Overdeer, H. A. DeForest, and Henry H. Appel.
Story of Lancaster Pennsylvania - Illustrated
(Clarence E. Weaver, 1912, 31 pages)
This is a descriptive and illustrative account of the economic and idustrial aspects of Lancaster, PA. It first gives a descriptive view of the city as a whole, providing information on its facilities and growth. Following this are a number of sketches of individual businesses in the city along with a few photographs showing scenes around town.
Sketches:
Central Auto Co., The Lancaster Real Estate Co., Wm. Blickenderfer, Conestoga National Bank, A. Leaman Futer, Farmers Trust Co., C. K. Hengst, J. Wayne Hollinger, I. H. Weaver, Sheetz Candies, Chas. H. King, Moyer's Lunch Room, W. J. Meekins, Shertzer & Vollmer, Paris Restaurant and Dairy Lunch, Flinn & Breneman, The National Cash Register Company, Christopher Liller, Grand Union Tea Company, WIlliam H. Guthrie, E. H. Keller, G. L. Fon Dersmith, C. E. Ergood, Albert A. Gutfleisch, Hogan & Deal, Fairmont House, M. S. Miller Co., Lancaster Supply Company, The Lancaster Paint and Glass Co., Herman Stein, L. O. Beard, Fairmount Automobile Company, Peter S. Krick, F. R. Kiehl, Lancaster Heating and Ventilating Company, S. E. Fegley & Bro., Isaac B. Powl, Herr & Company, Lancaster Fire Proofing and Paint Company, Stokley & McNelis, The Piersol Carpet Company, J. Frank Conrad, Julius Loeb, H. E. Shenberger, C. W. Oblender, The Swan Hotel, The Little Art Shop, Fabian Yecker, The Hill Dental Company. A. A. Heinitsh, Lou Helen Dundore, H. & C. K. Will, Emily Humphreville, Kaspar Brothers, Lancaster Clock Repairing Company, Hartman The Hatter, Jos. A. Gegg, J. H. Haller, The Great Atlantic and Pacific Tea Company, Samuel Hatz, Wm. A. Brinkman, William D. Zell, Wingert & Haas, J. Rohrer, Delmonico Cafe, I. P. Reese, Manor Hotel, Chas. H. Frey, Chas. A. Grove's Sons, Jno. R. Burkholder, Darmstaetter's Photo Supply House, Mrs. J. W. Villee, H. Gerhart & Son, The Corner Drug Store, B. Franklin Futer, The Original Cash Grocery, W. A. Backius, Taylor & Watson, Elizabeth M. McCauley, Railroad House, J. W. Gruel, The Aldine, Samuel D. Bausman, Pen-Mar Grocery Company, S. M. Myers & Co., A. R. Hoenninger, Excelsior Plating Works, J. M. Fackenthall, Hotel Weber, J. M. Eshelman & Son, Miss Louise F. Klein, John F. Hoenninger, Mrs. J. Wm. Miller, Everybody's Cigar Store, Philip Haun, Chas. M. Stieff, Golden Eagle Hotel, Stevens House Tonsorial Parlors, Haefner's Cafe, The Franklin House, Wilbur & Martin Shoe Company, Hannah Dull Wiley, Wagner's Cafe, Conrad Bohn, Elmer Sing, Dehaven & Butts, Herman H. Goeke, Lancaster Arms Company, Franklin Grocery Company, Wiegand's Picture Frame Shop, Frank F. Gegg, Geo. Wolf, Mrs. B. Helt, R. C. Seldomridge, The People's Restaurant, Hull's Drug Company, J. B. Miller, Miss Kathryn L. Hipple, Northern Market Hotel, Berger's Music House, Gall Bros., Bair & Witmer, Robert Eisenberg, Anna K. Keller, D. Frank Saylor, C. Myers' Cash Grocery, W. W. Huber & Son, The Picture and Art Store, Matz Piano Parlor, Singer Sewing Machine Company, Lancaster Dental Parlors, Samuel Hocking, A. W. Bostick, T. P. Guthrie, John W. Young, Ben R. Feldser's, Fred Bretz, The H. J. Rindskopf Leaf Tobacco Company, Lancaster Shoemaking and Repairing Company, The Electric Studio, D. S. Bursk & Son, Fred R. Frey, Miss Elizabeth D. Lamparter, The Fashion, Nissley's, Shaub & Company, Lancaster Corset Shop, Frank J. Shroad, Columbia Garden Hotel, Rieker's Meat Market, The Gunzenhauser Bakery, Gigl's Boot Shop, Keystone Express Company, Samuel K. Landis, Grimecy's Seventh-Ward Liquor Store and Bottling Works, I. Steinfeldt, John F. Steiger, B. F. Barr & Co., Miss Olive R. Stoner, H. C. Rote, G. Howard Sherts, Samuel Evans, Dora H. Hawthorn, Lemuel L. Groff, Wm. J. Sourbeer, John F. Gruel, John J. Rutt, R. M. Good
The Story of Lancaster Old and New (William Riddle, 1917, 319 pages)
From the Preface: "Much has been written of the early history of Lancaster city, but it remained for the present octogenarian author to unearth facts of interest, of no little moment, hitherto unpublished. In his assiduous researches he uncovered records to which previous historians apparently had not access. The result is a volume that contributes valuable addition to the store of local historical chronology. The work, however, is not a mere insipid recital of dates with their associate incidents. With the historical fact is woven a narrative in which liberal scope is given to the play of the imagination, sentiment and romance. The old life of the community is contrasted entertainingly with the new. Informative deductions are drawn there from, upon which the author, from time to time, philosophizes, basing his conclusions upon the varied experiences and analytical observations of a long life."
Lancaster's Golden Century - 1821-1921 (H. M. J. Klein, 1921, 139 pages)
This is a history and description of the city of Lancaster in Lancaster County, PA. It describes the city's beginning and growth through the years, and also briefly discusses its prominent men and women.
1827-1927 The Centennial of the Founding of Zion Lutheran
Congregation, Lancaster, PA (F. P. Mayser, 1927, 34 pages)
This pamphlet presents a basic history of this church for its Centennial anniversary. It also provides a program of services along with several photographs of the church and its pastors.
The Woolworth Building, Lancaster, Penna. (Anonymous, 1930, 24 pages)
This is a pamphlet illustrating the business and commercial highlights of the Woolworth Building of Lancaster. It presents numerous historical photographs of the interior showing its stores, offices, etc. The end of the publicaiton presents an office directory of the building - listing approximately 125 patrons as of August, 1930.
Directory of St. Paul's Reformed Church, Lancaster, 1850-1935
(T. A. Alspach, 1935, 54 pages)
This is a directory of this church for the year 1935. It begins with a list of Pastors from 1850-1935. Following this are photographs of the current (1935) Elders, Deacons, Sunday School Association members, Ladies Circle members, Women's Missionary Society members, Men's Bible Class members, Junior and Intermediate Choir members, Sunday School Orchestra members, Girls Missionary Guild members, Young People's Council members, as well as lists of member names for these organizations. Finally it provides a Roll of Membership listing each member and their address as of 1935.
The Story of Wheatland (Philip Shriver Klein, 1936, 68 pages)
'Wheatland' was the name given to the Lancaster County, PA home of President James Buchanan, very near Lancaster city. This book gives a history of the estate and home along with details of Buchanan's presidency.
Via Mulberry Street and Lime (Marion Wallace Reninger, 1960, 66 pages)
This publications outlines the history and importance of two streets in Lancaster, PA - Mulberry and Lime. Each played important roles in Lancaster's development. The historical narative covers several individuals who lived to conducted business on these streets - Thaddeus Stevens, John Piersol McCaskey, John Fulton Reynolds, John Wise, and Jacob Eichholtz along with several others. This gives an interesting look at the history of this area of Lancaster city.
St. Anthony's Lancaster, Penna. 1870-1970 (Frank A. Weatherly, 1970, 82 pages)
This is a history of St. Anthony's Church of Lancaster. It covers the history of the church an provides biographies of several of its previous pastors. It also provides a list of members who entered religious service, and a list of patrons and boosters along with ads for local businesses.
---
We Also Recommend
---