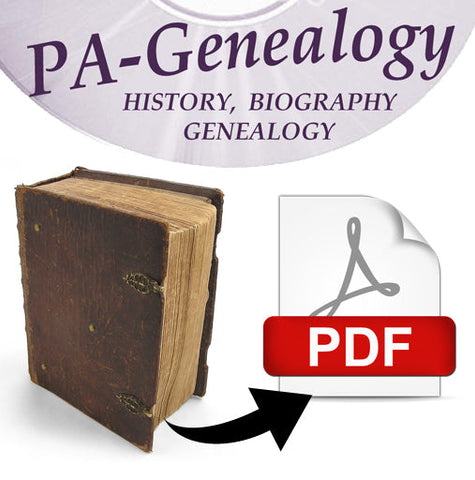 Indiana County PA - Church, Family, Education, Military and Miscellaneous History Collection
This is a collection of various historical and genealogical reference works on Pennsylvania. These references cover 1000's of individuals, and are an excellent way to start or continue research focused on PA.
This material was scanned from original publications and will be provided as text searchable PDFs (unless noted in description). These files can be read using many PDF reader programs (Windows / Mac / Linux), however Adobe Reader or Acrobat are recommended.
Miscellaneous Histories
A Brief History of the Ray Family (Leonard N. Ray, 1943, 21 pages)
This brief publication outlines the genealogy of the Ray family who descended from John Ray of Ireland, and settled in Indiana County, PA.
Young American Patriots - The Youth of Pennsylvania in World War II
(National Publishing Company, 1946, 674 pages)
This publication is a memorial to the service men and women of Pennsylvania who served in WWII. It contains brief sketches of 1,000's of soldiers from across the state. The sketches provide a variety of information on each soldier: Name, rank, branch of military, engagements, discharge date, military awards, birth date, parents, spouse, address, religion., etc. The information varies from soldier to soldier but most contain the information above. Also, nearly every sketch is accompanies by a portrait of the soldier. This publication is not an exhaustive listing of all the soldiers of Pennsylvania who fought in World War II. Nearly all counties are represented, but some more extensively than others. Those given more extensive coverage include: Allegheny, Armstrong, Beaver, Blair, Butler, Cambria, Cumberland, Dauphin, Erie, Fayette, Indiana, Lawrence, Northampton, Westmoreland,
Sample listing:
Abbott, William Edward
Cpl., Army. Born Apr. 6, 1925. Entered Serv. June 12, 1943. Ft. Belvoir; N. Guinea; Phil. Is.; Okinawa. Awarded GCM, As-Pac Rib., BS, Phil. Lib. Rib. Disch. Mar. 2, 1945. Attended Clymer HS. Protestant. Son of Mr. and Mrs. Otto Abbott. Husband of Margaret Herrington Abbott, 818 Sandusky St., N. S., Pgh, 12, Pa.
General Marshall's Victory Report [Indiana County, PA]
(U.S. War Department, 1946-47, 152 pages)
This was published in towns across the country following the close of World War II to provide the public with a general account of the war from beginning to end. The bulk of the information pertains to the various campaigns that took place during the war. This report was published in many communities in Pennsylvania, each on adding a list of the local men and women who served in the war. This edition covers the towns in Indiana County, PA.
Early Wills and Administrations of Northumberland County, Pennsylvania.
Also the same of Union, Mifflin and Indiana Counties (Dr. Charles A. Fisher, 1950, 79 pages)
This is a set of records compiled by local historian Charles A. Fisher. It provides abstracts of the Wills and Letters of Administration primarily for Northumberland County, but also for Union, Mifflin and Indiana Counties. Although not specifically stated, these records also include some records of Snyder County. Hundreds of individual records are recorded including references to 1000's of individuals from these central Pennsylvania Counties.
Maps Atlases & Images
Maps & Atlases (*** Not Text-Searchable ***)
1856 Map of Indiana County Pennsylvania (Surveys by David Peelor, Published by William J. Barker, Color)
1871 Atlas of Indiana Co., Pennsylvania (F. W. Beers & Co., 42 pages, B/W)
Birds-eye Town Views (*** Not Text-Searchable ***)
Indiana, Pennsylvania (1900, T. M. Fowler & James B. Moyer)
---
We Also Recommend
---