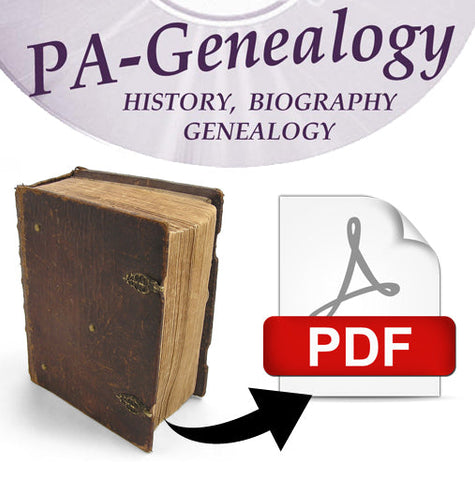 Huntingdon County PA - Regional, Miscellaneous History & Maps Collection
This is a collection of various historical and genealogical reference works on Pennsylvania. These references cover 1000's of individuals, and are an excellent way to start or continue research focused on PA.
This material was scanned from original publications and will be provided as text searchable PDFs (unless noted in description). These files can be read using many PDF reader programs (Windows / Mac / Linux), however Adobe Reader or Acrobat are recommended.
Town, Township & Regional Histories
Souvenir Edition - Historic Huntingdon (Historical Commission
of the Old Home Week Association, 1909, 243 pages)
According to the title page, this publication is "a brief account of the history of Huntingdon from its earliest settlements to the present day, comprising many historical facts, now published for the first time, regarding its formation, divisions and government, together with its military, educational and industrial progress." This is an excellent resource for research in this area of Huntingdon County, PA. It contains a great deal of historical information and much of it contains genealogical details as well. At the end of the book there are also a number of ads for local businesses.
History of Mount Union, Shirleysburg, and Shirley Township
(Charles Howard Welch, 1910, 783 pages)
This publication is a history of Mount Union, Shirleysburg, and Shirley Township in Huntingdon County, PA. It contains a wealth of historical information from the area's beginning to the present day (1910). It also contains biographical sketches of many of the residents and prominent persons from the township. This is an excellent resource for historical or genealogical research in Huntingdon County.
Surnames:
Adams, Anderson, Appleby, Awkerman, Aultz, Bard, Bare, Barton, Baughman, Beers, Bell, Bennett, Bice, Bolinger, Bollinger, Borst, Both, Bower, Bowman, Boyd, Brown, Burkett, Campbell, Cassady, Chilcote, Chilcott, Clinger, Copenhaver, Coulter, Covert, Crawford, Crone, Crouse, Crum, Culver, Cutshall, DeFrehn, Diamond, Davis, Dean, Devor, Dibert, Douglas, Douglass, Dougherty, Doyle, Drake, Dubbs, Dunmire, Eberman, Enyeart, Ernst, Erwin, Etnier, Everett, Ewing, Faust, Fields, Flasher, Fleming, Flood, Foreman, Fouse, Fuller, Fultz, Galbraith, Gayton, Gerughty, Gillam, Gray, Gregory, Griest, Grove, Hackman, Hadley, Haines, Hall, Hanawalt, Hancock, Harencame, Harper, Harris, Harrison, Hart, Harvey, Hartsock, Heckert, Heidel, Himes, Hiney, Hooper, Hubbell, Hudson, Hunter, Ingwers, Isenberg, Jacobs, Jamison, Jenkins, Johnson, Jones, Kasan, Kepler, Kieferle, Kiel, King, Kirk, Kough, Knepp, Koehler, Kurtz, Kyper, Lansberry, Lathrop, Leidy, Lightner, Lohr, Long, Longacre, Lotz, Love, Lukens, Lutz, Marlin, Masemore, Maxwell, McCarthy, McClain, McClure, McCoy, McDonald, McGarvey, McIlroy, McKelvy, McLaughlin, Miller, Minick, Morgan, Myers, Neagley, Neusbaum, Nevell, Noland, Norris, Oppel, Osborne, Peduzzi, Peterson, Postlethwaite, Powell, Preston, Price, Reck, Reeder, Rhodes, Ricketts, Riffle, Rinker, Ripple, Roberts, Robinson, Rogers, Rohm, Rosensteel, Ross, Rumberger, Rummel, Schmittle, Sechler, Seibert, Shaffer, Shapiro, Sharrer, Shaver, Shope, Simons, Smawley, Smelker, Smith, Smyers, Sneath, Snyder, Song, Spayde, Speer, Stevens, Stever, Stewart, Stratford, Struass, Taylor, Thompson, Tiffany, Wagner, Wakefield, Welch, Wenzel, Weyant, Wharton, White, Whittaker, Williams, Wilson, Withington, Workman, Yetter, Young, Zeigler
Certain Facts and Observations Concerning the Village of Standing
Stone to which is Appended a Brief Mention of the Early Days of
Huntingdon Borough (First National Bank of Huntingdon, 1923, 38 pages)
This booklet was produced as a history and souvenir of the village of Standing Stone, Huntingdon County, PA. It provides an account of its beginning, early settlers and other facts from its history. As noted in the title, part of the publication is devoted to the borough of Huntingdon as well, which is located not far from Standing Stone. It contains not only the historical information on these two locations but also a number of photographs from them as well.
Church, Family, Education, Military and Miscellaneous Histories
The Presbyterian Church of Alexandria, Huntingdon County,
PA, From 1786 to 1876 (J. C. Barr, 1876, 24 pages)
This pamphlet is a historical account of the Presbyterian Church of Alexandria, Huntingdon County, PA, an early Central Pennsylvania congregation.
Industrial and Commercial Resources of [Northern] Pennsylvania
(Historical Publishing Company, 1887, 125 pages)
This publication is a history and description of the business operations from dozens of towns throughout north, central and western Pennsylvania. Each business is detailed in sketch form, giving, in many cases, a brief history of its existence, management, and a description of its operations. This information was only published in this publication making this a rare and useful resource for historical or genealogical research in this area of PA.
Huntingdon County
-- From Huntingdon: -- J. C. Blair, H. W. Leister's Pharmacy, Hazlett Bros., G. Ashman Miller, Geo. W. Friedly & Son, A. S. Baker
The Historical Memoir of the Centennial Anniversary of the Presbytery
of Huntingdon 1795-1895 (The Presbytery of Huntingdon, 1896, 422 pages)
This book is a collection of historical information first presented at the Centennial Anniversary Celebration of the Huntingdon Presbytery held in 1895. It was decided upon to assemble this information into one volume to "set forth the history of the rise and progress of Presbytery throughout seven counties of Central Pennsylvania." It provides brief historical sketches of dozens of churches throughout the counties of Bedford, Blair, Centre, Clearfield, Huntingdon, Jefferson, Juniata, and Mifflin, PA, as well as information on the men who served these congregations.
Survey of Huntingdon Presbytery (Anonymous, 1910, 57 pages)
This is a survey of the Huntingdon Presbytery, covering the counties of Bedford, Blair, Centre, Clearfield, Huntingdon, and Juniata, PA. This was done to examine the effects of education, transportation, literacy, language, racial and ethnic diversity, etc., and their effects on church growth.
Flood 1972 (Pennsylvania Mirror, 1972, 48 pages)
This is a souvenir of the 1972 Flood in Pennsylvania resulting from Hurricane / Tropical storm Agnes. A section of the publication shows some of the damage done in Huntingdon County.
Maps Atlases & Images
Maps & Atlases (*** Not Text-Searchable ***)
1856 Directory Map of Huntingdon Co. Pennsylvania (William Christy, Color)
1873 Atlas of the Blair and Huntingdon Counties Pennsylvania (Beach Nichols and A. Pomeroy & Co., 1873, 58 pages, B/W)
Birds-eye Town Views (*** Not Text-Searchable ***)
Mount Union, Huntingdon Co., PA. (1906, Fowler & Kelly)
Bird's Eye View of Orbisonia and Rock Hill (1906, Fowler & Kelly)
---
We Also Recommend
---