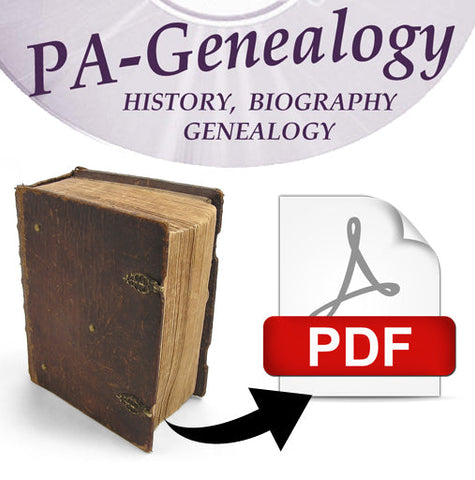 Fulton County PA - County, Regional, Miscellaneous History Collection
This is a collection of various historical and genealogical reference works on Pennsylvania. These references cover 1000's of individuals, and are an excellent way to start or continue research focused on PA.
This material was scanned from original publications and will be provided as text searchable PDFs (unless noted in description). These files can be read using many PDF reader programs (Windows / Mac / Linux), however Adobe Reader or Acrobat are recommended.
County Histories & Biographical Volumes
History of Bedford, Somerset and Fulton Counties, Pennsylvania
(Waterman, Watkins & Co., 1884, 779 pages)
This publication focuses on the history and development of the neighboring counties of Bedford, Somerset and Fulton, Pennsylvania. Briefly, it covers the settlement, wars, and civil growth of these counties as well as each of their respective townships. There is also a section of biographical sketches featuring the pioneers and prominent men of these areas. In addition to the more extensive biographies, there are shorter sketches of other residents in the township sections (these not listed in the index). Numerous pictures of the sketch subjects and occasional depictions of residences and businesses from the area are also included.
Bedford County Surnames:
Ake, Alsip, Anderson, Armstrong, Barclay, Barley, Barndollar, Barton, Blackburn, Breneman, Bruckman, Buck, Burd, Calhoun, Cessna, Clark, Compher, Conard, Daugherty, Detwiler, Donahoe, Doyle, DuBois, Ealy, Earnest, Elliott, Emigh, Enfield, Fletcher, Gump, Hadermann, Hall, Harris, Harry, Hartley, Henry, Hetrick, Hill, Hofius, Hughes, Jamison, Jenkins, Jordon, Kerr, King, Long, Lonenecker, Lutz, Madara, Magaw, Mann, Marbourg, Mattingly, McGirr, McNamara, Minnich, Miller, Mower, Mowry, Musser, Noble, Oellig, Pensyl, Plank, Points, Reamer, Reed, Reynolds, Rhodes, Rice, Robinson, Russell, Sample, Scheel, Scott, Shaefer, Sill, Smith, Spang, Statler, Stayer, Stehley, Stoler, Tate, Thomson, Tod, Todd, Tomlinson, Watson, Weller, Woods
Somerset County Surnames:
Baer, Bailey, Barclay, Beachly, Beachy, Biesecker, Black, Brubaker, Bruce, Casebeer, Coffroth, Colborn, Cover, Cox, Cunningham, Dumbauld, Edie, Elder, Endsley, Espy, Fechtig, Fichtner, Flickinger, Forward, Garey, Gaither, Gardner, Garman, Good, Hamer, Harah, Hay, Heffley, Hoblitzell, Hugus, Husband, Kiernan, Kimmel, Koontz, Kooser, Krissinger, Kuhlman, Lepley, Lichty, Livingood, Louther, McKinley, Meyers, Miller, Morrison, Musselman, Musser, Ogle, Patterson, Pritts, Pugh, Rauch, Ream, Reiman, Ross, Ruppel, Schell, Schrock, Scott, Scull, Shuri, Smith, Snyder, Stewart, Stutzman, Trent, Uhl, Walker, Weyand, Whipkey, Will, Williams, Yutzey, Zimmerman
Fulton County Surnames:
Agnew, Alexander, Austin, Barton, Bonnett, Carl, Donahoo, Fletcher, Goldsmith, Greathead, Hess, Logan, Lyon, McDonald, McFadden, McKiffin, Ott, Pott, Rexroth, Robinson, Schell, Shade, Sipes, Skinner, Smith, Stewart, Trout, Woodcock, Wishart, Woollet
The History of Fulton County, Pennsylvania (Elsie S. Greathead, 1936, 56 pages)
This publication contains a brief history of Fulton County, Pennsylvania, McConnelsburg and Ayr Township in Cumberland and Bedford Counties. These articles were published in a local newspaper then later collected and published together. The information focuses mainly on colonial and post revolutionary times, providing information on early settlers and events of that period.
Town, Township & Regional Histories
The One Hundred and Fiftieth Anniversary of the Founding of McConnellsburg
and the Fulton County Home Coming (Susqui-Centennial Committee, 1936, 48 pages)
This booklet was published for the 150th anniversary of McConnellsburg, Fulton County, PA in 1936. It presents a brief history of the town and vicinity accompanied by a number of illustrations and photographs. It also contains a program of events associated with the celebration, and numerous ads for local businesses.
Maps Atlases & Images (*** Not Text-Searchable ***)
1873 Map of Fulton Co. Pennsylvania (A. Pomeroy & Co., Color)
1916 Atlas of Fulton County Pennsylvania (Frank P. Plessinger & Francis M. Taylor, 24 pages, B/W)
---
We Also Recommend
---