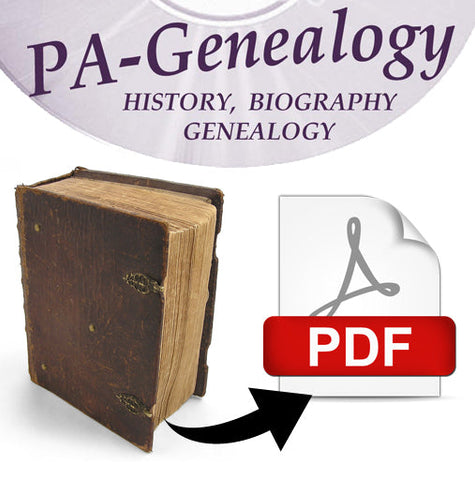 Forest County PA - Everything Collection
This is a collection of various historical and genealogical reference works on Pennsylvania. These references cover 1000's of individuals, and are an excellent way to start or continue research focused on PA.
This material was scanned from original publications and will be provided as PDFs. You will receive an email with the download link after purchasing online. These files can be read using many PDF reader programs (Windows / Mac / Linux), however Adobe Reader or Acrobat are recommended. Unless notes, each of these files are text-searchable.
County Histories & Biographicals
Pioneer Outline History of Northwestern Pennsylvania (W. J. McKnight, 1905, 755 pages)
The Full title is: "A Pioneer Outline History of Northwestern Pennsylvania, Embracing the Counties of Tioga, Potter, McKean, Warren, Crawford, Venango, Forest, Clarion, Elk, Jefferson, Cameron, Butler, Lawrence, and Mercer, Also A Pioneer Sketch of the Cities of Allegheny, Beaver, Du Bois, and Towanda"  This publication is a historical account of the early beginnings of several counties in Northwestern PA.  The information is more focused on historical details than biographical, but it still contains a great deal of information useful for historical or genealogical research.
Miscellaneous Histories
Industrial and Commercial Resources of [Western] Pennsylvania
Historical, Descriptive and Biographical Review
Historical Publishing Company, 1887, 144 pages
This publication is a history and description of the business operations from a dozens of towns throughout north and western Pennsylvania. Each business is detailed in sketch form, giving, in many cases, a brief history of its existence, management, and a description of its operations. This information was only published in this publication making this a rare and useful resource for historical or genealogical research in these counties of PA.
From Forest County
-- From Tionesta: -- G. W. Robinson, May, Park & Co., G. W. Bovard, Wm. Smearbaugh & Co., L. Fulton
Maps Atlases & Images
Maps & Atlases (*** Not text searchable ***)
1857 Map of Venango County Pennsylvania (Irwin, Heydrick & Heydrick)
1860's Map of Forrest County Pennsylvania (R. L. Barnes)
1864 Map of Forest County (D. C. Gillespie)
1876 Irwin's Map of Forest Co. Pennsylvania (J. L. Smith)
1881 Map of Forest Co., Pennsylvania (J. L .Smith)
1881 A Map of the Original Warrants of Portions of Warren & Forest Counties (John Gardiner)
1882 Map of the Oil Fields of Warren and Forest Counties Pennsylvania (J. L. Smith)
1895 A New Official Map of Forest County PA (F. F. Whittekin)
Birds-eye Town Views (*** Not text searchable ***)
Tionesta, Forest County, Pennsylvania (1896, T. M. Fowler & James B. Moyer)
Directories
Official Directory of the Central District & Printing Telegraph Co. May 1898
(Central District & Printing Telegraph Co., 1898, 410 pages)
This is an early telephone directory of Pittsburg and western Pennsylvania / eastern Ohio / northern West Virginia for the year 1898. This was a period of early adoption of this new service, so only a select few became subscribers - usually those who were wealthy or businesses. The information presented includes the name of the subscriber (person or business), their trade, street address and telephone number.
Pennsylvania Towns included:
Apollo, Barnesboro, Barnesville, Beaver, Beaver Falls, Blairsville, Braddock, Brockwayville, Brookville, Brownsville, Butler, California, Callery, Cambridge Springs, Canonsburg, Carnegie, Charleroi, Chicora, Clarion, Claysville, Connellsville, Crafton, Dawson, Du Bois, Dunbar, Ebensburg, Elizabeth, Ellwood City, Emlenton, Evans City, Fairchance, Falls Creek, Finleyville, Foxburg, Franklin, Freeport, Greensburg, Greenville, Grove City, Harmony, Hastings, Homestead, Indiana, Irwin, Jeannette, Johnstown, Kittanning, Latrobe, Leechburg, Mahoningtown, Manor, Meadville, Mercer, Monaca, Monongahela, Mt. Pleasant, McDonald, McKeesport, New Brighton, New Castle, New Kensington, Oakmont, Oil City, Patton, Petersville, Punxsutawney, Reynoldsville, Rochester, Scottdale, Sewickley, Sharon, Sharpsburg, Sharpville, South Fork, Tarenturm, Tionesta, Titusville, Turtle Creek, Uniontown, Washington, Waynesburg, West Newton, Wilkinsburg, Zelienople
Ohio Towns included:
Bellaire, Bridgeport, Cadiz, Cambridge, Canal Dover, Columbiana, East Liverpool, East Palestine, Girard, Leetonia, Lisbon, Martin's Ferry, New Comerstown, New Philadelphia, Niles, St. Clairsville, Salem, Salineville, Steubenville, Toronto, Uhrichsville, Warren, Wellsville
West Virginia Towns included:
Altenheim, Benwood, Clarksburg, Elm Grove, Fairmont, Grafton, Mannington, Morgantown, Moundsville, New Cumberland, Parkersburg, Sisterville, Wellsburg, Wheeling
Leatherwood and Red Bank Telephone Companie's Directory 1908
(Letherwood and Red Bank Telephone Co., 1908, 58 pages
This is an early telephone directory for parts of Armstrong, Clarion, Forest, and Jefferson Counties, Pennsylvania for the year 1908. The directory information includes the resident's name and town of residence. The directory also includes the business ads for the same areas throughout.
Towns Included:
Brookville, Corsica, Curllsville, Callensburg, Clarion, Coolspring, Emlenton, Falls Creek, Foxburg, Fryburg, Hazel, Hawthorn, Knox, Lamartine, Leatherwood, Leeper, Limestone, Marienville, New Bethlehem, Parker's Landing, Richardsville, Rimersburg, Shippenville, Sigel, Summerville, Strattanville, and St. Petersburg
---
We Also Recommend
---