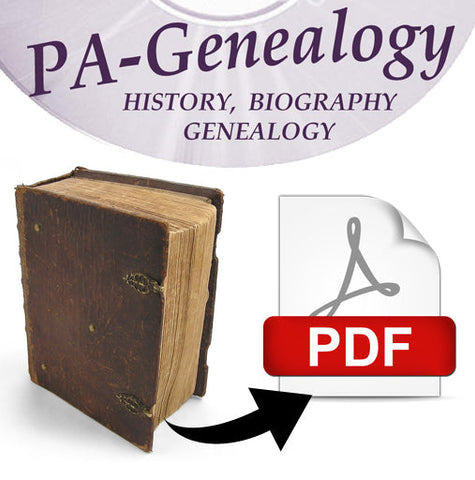 Cumberland County PA - Regional History Collection - Carlisle & Vicinity
This is a collection of various historical and genealogical reference works on Pennsylvania. These references cover 1000's of individuals, and are an excellent way to start or continue research focused on PA.
This material was scanned from original publications and will be provided as text searchable PDFs (unless noted in description). These files can be read using many PDF reader programs (Windows / Mac / Linux), however Adobe Reader or Acrobat are recommended.
Charter and Ordinances of the Borough of Carlisle (Herald Office, 1841, 65 pages)
This is a rare and early look at the town of Carlisle, Cumberland County, PA. The full title of the publication is: "Charter and Ordinances of the Borough of Carlisle, to which are prefixed incidents of the early history of the town, with a succinct notice of its present condition"
The historical section of the publication contains information on the early history of Cumberland County, the formation of Carlisle, and some early historical details pertaining to the town. Following this is a description of the present (1841) state of the town and some of its buildings, including the court house, jail, market house, college, barracks, bank and several of its churches. It also includes a list of borough officers for 1841 and 2 maps before going into the borough ordinances. The first map is of the land plot that the town was laid out on, and the second map is a street map of the town.
A History of the First Presbyterian Church of Carlisle, PA.
(Rev. Conway P. Wing, 1877, 194 pages)
This is a history of the First Presbyterian Church of Carlisle, Cumberland Co., PA. It covers the settlement and growth of this early Pennsylvania Church, as well as the ministries of its various pastors.
Boyd's Chambersburg, Carlisle and Hagerstown Directory 1882-1883
(W. Harry Boyd, 1882, 322 pages)
This is a resident and business directory for Chambersburg and Carlisle, Pennsylvania and Hagerstown, Maryland for the year 1882-83. The residential listings are alphabetical by town, and include the resident's name, occupation and street address. Following the residential directories are business listings for a number of Cumberland Valley towns, including: Allen, Altodale, Big Spring, Black Gap, Bloserville, Boiling Springs, Boonsborough MD, Brandtsville, Brown's Mills, Carlisle Springs, Carrick Furnace, Centreville, Churchtown, Clay Lick, Concord, Dickinson, Dillsburg, Dry Run, Fannettsburg, Eberlys Mill, Fayetteville, Good Hope, Greason, Greencastle, Green Spring, Greenvillage, Hogestown, Hunter's Run, Jackson Hall, Jacksonville, Keedysville MD, Kerrsville, Laurel, Lees Cross Roads, Leidig Station, Loudon, Marion, Mechanicsburg, Mercersburg, Middleburg, Middle Spring, Mont Alto, Monterey Springs, Mount Holly Springs, Mount Rock, Mowersville, Newburg, New Cumberland, New Kingston, Newville, Oakville, Orrstown, Pine Grove Furnace, Plainfield, Pleasant Hall, Quincy, Richmond Furnace, Rowzersville, Roxbury, Scotland, Shady Grove, Sharspburg MD, Shepherdstown, Shippensburg, Shiremantown, Springfield, Spring Run, State Line, Stoughstown, St. Thomas, Sylvan, Upper Strasburg, Upton, Waynesboro, Welsh Run, West Fairview, White Horse, Williamsport MD, Williamson, Wormleysburg. Lastly is listings of farmers for Franklin County, and Cumberland County, PA and Washington County, MD, arranged by township.
Pollock Genealogy - A Biographical Sketch of Oliver Pollock, Esq. of Carlisle PA
(Rev. Horace Edwin Hayden, 1883, 62 pages)
Boyd's General Directory of Carlisle 1887-1888 (W. Harry Boyd, 1887, 78 pages)
This is a general directory of Carlisle listing residents as well as businesses within the city. It provides the resident's name, occupation, and street address for each entry.
History of St. Patrick's Church, Carlisle, Pennsylvania (Rev. H. G. Ganss, 1895, 215 pages)
The Old Stone Meeting-House 1757-1832 (John B. Landis, 1904, 36 pages)
This is a brief historical sketch of the early Presbyterian church of Carlisle.
Early History and Growth of Carlisle (Hon. Theodore B. Klein, 1905, 11 pages)
According to the title page, this is an excerpt from the Annual Report of the Department of Internal Affairs for 1904. It contains a brief history of Carlisle with mention of some of its founding members. Included are a copy of the property plat which covered the area that is now Carlisle, a plan of the location of Fort Lowther, and a map of the distribution of troops in the Cumberland and Franklin county areas during the winter of 1764.
Semi-Centennial of the 2nd Presbyterian Church, Carlisle, PA (Mary E. Himes, 1905, 106 pages)
Published a number of years later by his daughter, this was a discourse delivered by Rev. Joseph A. Murray for the semi-centennial of the church in 1883. It begins with a biography of Joseph Murray, and then follows with the discourse.
The discourse focused on the founders of the church: Samuel Thompson, John Steel, George Duffield, James Williamson, A. B. Quay, Andrew Blain, John McClure, Robert Clark, Peter B. Smith, Robert Irvine, Robert Giffin, John Proctor, George A. Lyon, Charles Bingham Penrose, John Stuart, James Hamilton, Alexander C. Gregg, Crawford Foster, Abraham Lamberton, John Hays, William Irvine, John Agnew, John Williamson, Andrew Holmes, John Paxton, George Metzger, Gilbert Searight, James Thompson, Benjamin Fernald, John Huston, Robert Young, William B. Murray.
The appendix provides biographical data on a number of other early members of the congregation: Jame (Blair) McClure, Elizabeth (Hays) Blair, Anna (Lyttleton) Lyon, Margaret (Ramsey) Jackson, Sarah (Harris) Irvine, Ann (Shields) Craighead, Elizabeth (Phillips) Kerr, George Murray, James Wilson, Lydia (Spencer) Biddle, John Harper, John Smith, Ann (Metzger) Blaine, Rachel (Craighead) Cooper, Elizabeth and Sarah Boden, Mary (Province) Sterrett, Mary (Young) Laird, Martha (Duncan) Callender, Isaac Weakley, Priscilla (Denny) Boyd, Catherine (Irvine) Ross, and James Bredin.
Carlisle Old and New (The Civic Club of Carlisle, 1907, 179 pages)
This title is a collection of historical stories and accounts from Carlisle, PA. It also includes a number of photographs of historic buildings or places within the town, and a few portraits of the town's important people.
Residence and Business Directory of Carlisle 1911-12 (The Letter Shop, 1911, 154 pages)
This is a resident directory of the town of Carlisle, Cumberland County, PA for 1911-12. It lists the adult residents and street address of each residence, it also notes the occupation for many of the listings. Along with the directory information are many ads for local businesses.
Pictorial Carlisle (The Carlisle Garment Co., 1913, 24 pages)
This is a pictorial souvenir of Carlisle presenting photographs of scenes around the city.
Souvenir History of Carlisle Old Home Week (Robert H. Gibbs, 1924, 70 pages)
This is a souvenir of the of the Old Home Week of Carlisle, Cumberland County, PA, held in 1924. It gives a general history of the county and the borough of Carlisle, including several historical accounts of local interest. It also gives a brief description of Carlisle's churches, schools, businesses and other institutions. There is also a section devoted to the history of fire fighting in the town. Along with the historical information, there are numerous photographs of buildings and areas of the town.
The Meeting House Springs Graveyard (Allan D. Thompson, 1926, 21 pages)
This was an historical address read before a few Cumberland County societies. It briefly discusses the meeting house, but focuses more on the graveyard. It includes a transcription of a number of older gravestones, which is a useful collection since there were originally no burial records kept.
Memories of Carlisle's Old Graveyard (Sarah Woods Parkinson, 1930, 257 pages)
"Containing a list of the inscriptions on all stones in the enclosure in 1898 and describing a walk through a part of the graveyard."
Bicentennial 1734-1934 - First Presbyterian Church, Carlisle PA
(Bicentennial Committee, 1934, 29 pages)
This booklet is a brief historical sketch of this church and a program of the events associated with the Bicentennial celebration. It also contains a membership roll for 1934.
Military History of Carlisle and Carlisle Barracks (Lt. Col. Thomas G. Tousey, 1939, 461 pages)
---
We Also Recommend
---