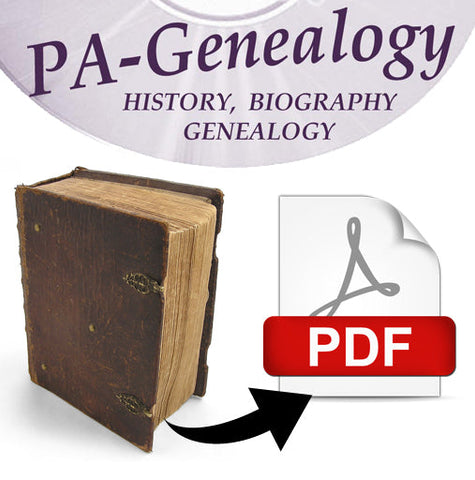 Cumberland County PA - Regional History Collection - Camp Hill-Mechanicsburg & Vicinity
This is a collection of various historical and genealogical reference works on Pennsylvania. These references cover 1000's of individuals, and are an excellent way to start or continue research focused on PA.
This material was scanned from original publications and will be provided as text searchable PDFs (unless noted in description). These files can be read using many PDF reader programs (Windows / Mac / Linux), however Adobe Reader or Acrobat are recommended.
Hauck's Centennial Directory of the Borough of Mechanicsburg
(A. J. Hauck, 1876, 153 pages)
The full title is: Hauck's Centennial Directory of the Borough of Mechanicsburg, Cumberland County, PA, containing a history of its settlement and growth; a classified list of the business houses; a complete directory, alphabetically arranged, of all the citizens; a list of the public institutions, secret societies and miscellaneous organization; an alphabetical street directory; the officers of the national, state, county, and municipal governments; the declaration of independence and constitutions of the United States and of Pennsylvania; interesting political and general statistics, together with a detailed census of the population of the borough for the year 1876." As with most directories of this era, there are also numerous ads for local businesses interspersed throughout.
The Cumberland Blue Book - January 1908
(J. R. Schwarz, 1908, 102 pages)
This publication is a history and directory of lower Cumberland County, PA including Camp Hill, Washington Heights, Belvior Park and Earlington. The directory information contains the name of the resident and their street address, and in some cases their occupation. Along with the directory information there are many illustrations of homes and other buildings from the area. The final section of the publication gives a brief historical account of Camp Hill and vicinity.
Silver Spring Presbyterian Church 1734-1909
(E. Rankin Huston, 1909, 74 pages)
This is a program and history of one of Cumberland County's earliest churches and also includes some biographical matter on some of its early pastors: William Bertram, Thomas Craighead, John Thompson, Samuel Thompson, Samuel Waugh, John Hays, James Williamson, George Morris, W. H. Dinsmore, and Thomas J. Ferguson. Also included are a number of transcriptions from the church cemetery of men who served in the Revolution. Another section of the work highlights "the Early Patriots of the Silver Spring": William Trent, George Croghan, Edward Ward, Robert Callender, James Hendricks, Ephraim and Alexander Blaine, Jonathan Hoge, George Gibson, James and Andrew Galbreath, William Hendricks, and Oliver Pollock.
Mechanicsburg - Shiremanstown Directory - 1925
(J. A. Bushman Company, 1925, 107 pages)
This is a resident and business directory of the towns of Mechanicsburg and Shiremanstown, Cumberland County, PA for the year 1925. It also includes listings from several outlying rural routes in the same general area. The directory information is listed alphabetically and includes the resident's name, occupation and street address. In some cases the name of the resident's mate is also included. Following the resident directory is a business directory of the town.
Miniatures of Mechanicsburg
(J. A. Bushman Co., Inc, 1928, 162 pages)
This is a history of the settlement and growth through the years of the town of Mechanicsburg, Cumberland County, PA.
1934 West Shore Directory
(James F. Cline, 1934, 196 pages)
This is a directory from 1934 covering several Cumberland County towns, including Camp Hill, Enola, Lemoyne, New Cumberland, Shiremantown, Wormleysburg and West Fairview. According to the publishers, this is an "alphabetical directory of the above towns giving names, occupations, employers and addresses of all men eighteen years of age and over, together with wife's name where married, also indicating widows by (w) and minors by (m) following the name. All businesses and professions are listed with their managers or proprietors."
St. Paul's Reformed Church, Mechanicsburg, PA 75th Anniversary 1863-1938
(W. Bruce Wister, Mrs. Bruce R. Mowery, & David I. Gleim, 1938, 16 pages)
This is a brief history of the church published for its 75th anniversary.
Welcome Home New Cumberland, PA
(New Cumberland Welcome Home Association, 1946, 44 pages)
This is a souvenir honoring the WWII veterans of New Cumberland, Cumberland County, PA. It gives a description of the war support in the local community. This is followed by a list of veterans from the area, including such information as: name, branch of military, unit, rank, and tour of duty. Portraits of those who were killed in action are also included.
50 Years of Progress Lemoyne 1905-1955
(Anonymous, 1955, 132 pages)
This booklet was published as a commemoration of the Golden Jubilee of the incorporation of the Borough of Lemoyne, Cumberland County, PA in 1905. It provides a program of the events of the celebration along with lists of the persons who participated in putting it on. There is also a historical sketch of the town from the early days of the state up to the present (1955). There are numerous photographs included of scenes around the town and surrounding area, as well as its residents.
Shiremanstown Centennial Album
(Anonymous, 1974, 54 pages)
This booklet was published as a photographic souvenir of the Centennial of Shiremanstown, Cumberland County, PA in 1974. It contains dozens of photographs from the celebration events and participants as well as some from historical locations around the county.
Shiremanstown Centennial Historical Booklet 1874-1974
(Historical Booklet Committee, 1974, 48 pages)
This booklet was published to provide a brief history of Shiremanstown, Cumberland County, PA. It covers the founding and early history of the town, followed by accounts from the history of the town up to 1974. Along with the historical information there are a number of historical photographs of the town's people and buildings. The end of the publication provides a list of residents who patronized the celebration.
150th Anniversary - Borough of Mechanicsburg - 1828-1978
(Anonymous, 1978, 80 pages)
This is a program for the 150th anniversary of Mechanicsburg, Cumberland County, PA. It provides a brief historical sketch covering the area, a walking tour guide, lists of patrons for the celebration, and ads for local businesses.
---
We Also Recommend
---