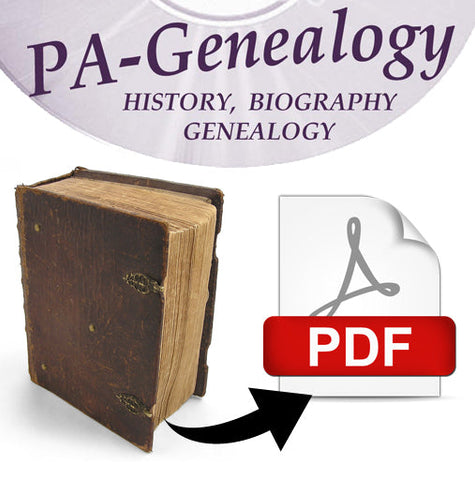 Chester County PA - Maps Atlases & Images Collection
This is a collection of various historical and genealogical reference works on Pennsylvania. These references cover 1000's of individuals, and are an excellent way to start or continue research focused on PA.
This material was scanned from original publications and will be provided as text searchable PDFs (unless noted in description). You will receive an email with the download link after purchasing online. These files can be read using many PDF reader programs (Windows / Mac / Linux), however Adobe Reader or Acrobat are recommended.
(*** These files of this collection are not text searchable ***)
Maps Atlases & Images Collection
Maps & Atlases
1847 Map of Chester County, Pennsylvania (S. M. Painter & J. S. Bowen, Color)
1856 Map of Chester County, Pennsylvania (T. J. Kennedy, Color)
1860 Map of Chester Co., Pennsylvania (T. J. Kennedy, Color)
1873 Atlas of Chester Co., Pennsylvania (A. R. Witmer, 61 pages, B/W)
1883 Breou's Official Series of Farm Maps of Chester County Pennsylvania (W. H. Kirk & Co., 83 pages, B/W)
Birds-eye Town Views
Downingtown, Chester County, Pennsylvania (1893, by T. M. Fowler)
Bird's Eye View of Oxford, Chester Co., Pennsylvania (1907, by Fowler & Kelly)
---
We Also Recommend
---