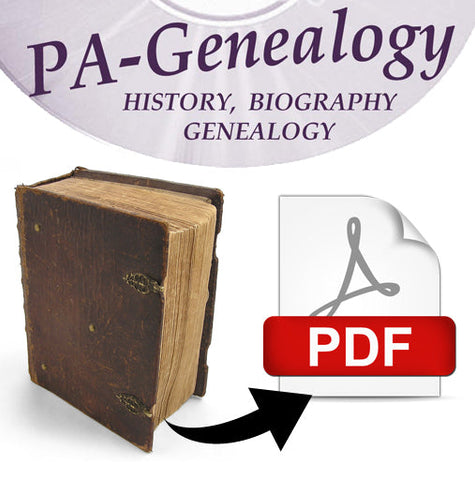 Centre County PA - Regional History Collection
This is a collection of various historical and genealogical reference works on Pennsylvania. These references cover 1000's of individuals, and are an excellent way to start or continue research focused on PA.
This material was scanned from original publications and will be provided as text searchable PDFs (unless noted in description). These files can be read using many PDF reader programs (Windows / Mac / Linux), however Adobe Reader or Acrobat are recommended.
Historical Sketches - The Snow-Shoe Region of
Centre County, Pennsylvania (James Gilliland, 1881, 33 pages)
This pamphlet is an early collection of historical sketches on the Snow Shoe region of Centre County, PA including information on its early settlers, industries, churches, etc.
A Passing Glance at Penn's Valley
(R. W. Illingsworth, 1896, 128 pages)
From the Foreword: "The following pages are intended to be more of a description than a history of the valley, together with a mention of some of its active men, and principal towns. The engravings inserted are those of the men of to-day who have made, and are now making, its history. All being modest men, their consent to be represented was secured with much difficulty..." The information includes historical sketches of the towns of Penn's Valley: Aaronsburg, Boalsburg, Coburn, Centre Hall, Centre Hill, Farmers' Mills, Penn's Cave, Lemont, Linden Hall, Millheim, Oak Hall, Pine Grove Mills, Potter's Mills, Penn Hall, Spring Mills, State College, Tusseyville, and Woodward. It also includes biographical sketches of 30 of the valley's prominent persons (24 of which also include a portrait), as well as ads for local businesses throughout.
Surnamed sketched:
Alexander, Allison, Bumiller, Coburn, Condo, Evans, Fisher, Frank, From, Gramley, Grenoble, Harter, Long, Motz, Musser, Pealer, Rhone, Sankey, Smith, Snyder, Thompson, Van Valzah, Walter, Wolf, Zerby
History of Philipsburg - From Pioneer Days
to Present Time (S. B. Row, 1909, 110 pages)
According to the title page, this publication contians "Names of Founders and First Settlers. Early Industries, including the First Screw Mill in the United States, and first Attempt to Build a Railroad Across the Allegheny Mountain. Facts about the Organization of the Borough, Schools, Saw Mills, Mines, and other interesting information never before published." The first section of the book contains the historical narrative of the town and surrounding area. The second section is a photographic souvenir of the town, its historic buildings and residents. This section contians numerous photographs and portraits of the area.
History of the Early Settling of the Bald Eagle Valley
(William E. Marks, 1939, 19 pages)
From the Foreword: "The writer has spent much time and labor in research, largely from old warrants and deeds, and believes that this booklet will give you valuable information as to the early settling of the Bald Eagle Valley and Centre County, that can not be found in any other publication." The towns that this publication focuses on are: Bald Eagle, Beech Creek, Bellefonte, Curtin, Eagleville, Fowler, Hannah, Howard, Julian, Lock Haven, Martha, Milesburg, Mill Hall, Philipsburg, Port Matilda, Show Shoe, Snow Shoe Intersection, Tyrone, and Unionville.
History of Rock (Myrtle Magargel, 1940, 96 pages)
This booklet presents a history of the area of Rock and Vicinity, Centre County, PA. It covers the history of the area, including accounts of residents and early settlers, its growth and development. Along with the historical content, there are several historic photographs of some of the areas discussed.
Centre Hall, Centre County, Pennsylvania
(William W. Kerlin, 1942, 358 pages)
This book is a history of the borough of Centre Hall, located in Potter Township, Centre County, PA. The information is arranged chronologically from the early 1870's onward, and covers important events of the town and its residents, including both world wars. The book also includes several photographs of the town and its residents. This is a great resource for research in this area of Central Pennsylvania.
Boalsburg - An American Village, 85th Anniversary
of Memorial Day 1864-1949 (Boalsburg Fire Company, 1949, 40 pages)
This pamphlet includes a program of the events associated with the Memorial Day celebration of 1949, and how the celebration begin in Boalsburg, Centre County, PA. It also includes a short history of the town of Boalsburg and some biographical information about a few of the individuals who were involved in the program: James E. VanZandt, Ruth Ann Douglas, and Dr. S. K. Stevens.
In the Shadow of Nittany Mountain (J. Marvin Lee, 1963, 37 pages)
This is a brief history of the region of Mount Nittany, Centre Co., PA, particularly Houserville. It covers the early settlers to the area and some of their exploits, as well as many other interesting details of the history of this area.
A History of College Township Before and After 1875
(College Township Bicentennial History Committee, 1976, 169 pages)
This is a history of College Township and its towns located in Centre County, PA, written for the national bicentennial in 1976. It covers the early settlers of the area as well as a general history of the towns of Centre Furnace, Houserville, Dale's Mills, Oak Hill and Lemont. The remaining portion of the information deals with the more recent history of the area (1976) covering topics related it churches, cemeteries, schools, government, businesses, etc. There is a section of biographical sketches of some local residents, and also a number of photographs included along with the historical information.
Fountain of Governors - Bellefonte Bicentennial 1976
(Anonymous, 1976, 52 pages)
This is a history of the Bellefonte, Centre County, PA area published for the national Bicentennial in 1976. It begins with sketches of the men from the Bellefonte area who served as Governors in various states. Then the publication goes into the history of the Bellefonte area from colonial times. In the course of covering its history, details of many of its founders, residents and prominent residents are presented.
---
We Also Recommend
---