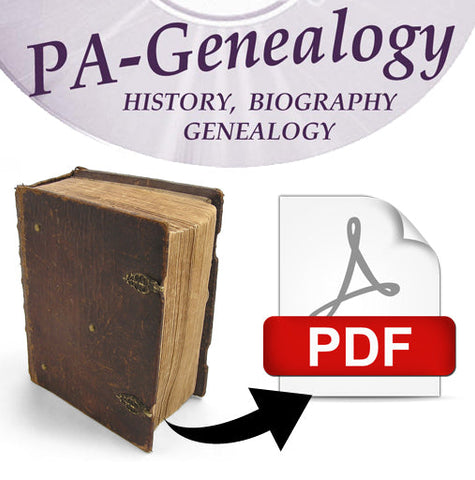 Centre County PA - Miscellaneous History and Maps Collection
This is a collection of various historical and genealogical reference works on Pennsylvania. These references cover 1000's of individuals, and are an excellent way to start or continue research focused on PA.
This material was scanned from original publications and will be provided as text searchable PDFs (unless noted in description). These files can be read using many PDF reader programs (Windows / Mac / Linux), however Adobe Reader or Acrobat are recommended.
Church, Family, Education, Military and Miscellaneous Histories
Industries of Pennsylvania
Williamsport, Lock Haven, Bellefonte, Lewisburg, Milton, Selins' Grove, Renovo,
Philipsburg, Mifflinburg, Muncy, Newberry, Jersey Shore, Hughesville, Milesburg
(Richard Edwards, 1882, 144 pages)
This publication is a history and description of the business operations from a dozens of towns throughout Central Pennsylvania. Each business is detailed in sketch form, giving, in many cases, a brief history of its existence, management, and a description of its operations. This information was only published in this publication making this a rare and useful resource for historical or genealogical research in these counties of PA.
Centre County
-- From Bellefonte: -- Bellefonte Iron Works, Gordon & Landis, Williams & Brother, Bunnell & Aikens, A. J. Brown, A. J. Cruse, Bush House, Lawrence L. Brown, W. F. Reynolds & Co., D. M. Wagner, Duncan-Hale & Co., F. C. Richard, John Powers & Son, Joseph A. Rankin & Son, Wilson, McFarlane & Co., John Brackbill, John Meese, J. Zeller & Son, Mrs. N. K. Dare, H. K. Hicks, John H. Sands, Centre County Banking Co., P. Gray Meek, H. C. Weaver, Isaac Lose, Bond Valentine, The Bellefonte Republican and the Daily, Sechler & Co., Doll & Mingle, John R. Bartruff, Dr. M. A. Kirk, John Hoffer, E. Graham & Son, E. J. Swavely, J. W. Moore, F. P. Green, W. H. Wilkinson, -- From Milesburg: -- McCoy & Linn, -- From Philipsburg: -- George Heimach, Philipsburg Banking Co., Hoover-Hughes & Co., L. J. & K. Switzer, Moshannon Banking Co., Ironside Store, Strouse-Lehman & Co., The Philipsburg Journal, Passmore House, Robert F. Mull, R. Arisman, E. O Mattern, R. M. Musser, C. G. Hirlinger, Lloyd House, A. R. Feistel, John Peightal, Fleck & Miller, Wm. D. A. Naugle, John M. Hale & Co., Philipsburg Machine Shops, Jeremiah Sankey, J. N. Schoonover, George W. Ganoe, W. J. Lytle & Co.
Handbook and Record of the Presbyterian
Church, Bellefonte, PA (Rev. W. T. Wylie, 1871, 57 pages)
This is a history of the Presbyterian Church of Bellefonte as well as other church information. Some of the other useful information included about the church is a list of Bible classes with teachers and students and a Roll of current (1871) members of the church.
History of the Spring Mills Sunday School 1828-1878
(James D. Wilson & S. Albert Woods, 1878, 17 pages)
This is a brief history of 50 years of operation for the Spring Mills Sunday School. A nice feature of the publication is a roll of teachers and students from 1828-1878, making this an excellent source for genealogical research.
Centennial of the Introduction of Methodism into
Centre County, Pennsylvania (Anonymous, 1887, 49 pages)
This booklet is a history of Methodism in Centre County, PA, including discussion of some of the early settlers who were involved in it.
Genealogy of the Meyer Family (Henry Meyer, 1890, 129 pages)
This is a genealogy of the Meyer family of Lebanon County, PA. Descendants of this family settled in the area of Freeburg, Snyder County, and then subsequently moved westward to Centre County.
History of the Bellefonte Presbyterian Church
from 1800 to 1902 (William Laurie, 1902, 25 pages)
This is a history of the church and also a memorial to the Rev. James Linn, who served the congregation.
A Century of Progress - St. John's Episcopal Church,
Bellefonte, Pennsylvania 1837-1937 (1937, 24 pages)
This is a brief history of this church published to commemorate its centennial in 1937.
General Marshall's Victory Report [Philipsburg]
(U.S. War Department, 1946-47, 150 pages)
This was published following the close of the war to provide the public with a general account of the war from beginning to end. The report was published for individual areas throughout the state, and each of these areas included a list of local men and women who served in the war. This report covers the town of Philipsburg in Centre County, PA, and nearby areas of Clearfield County.
Flood 1972 (Pennsylvania Mirror, 1972, 48 pages)
This is a souvenir of the 1972 Flood in Pennsylvania resulting from Hurricane / Tropical storm Agnes. A section of the publication shows some of the damage done in the Centre County area.
Maps Atlases & Images (*** Not text searchable ***)
1861 Topographical Map of Centre Co. Pennsylvania (H. A. Walling & S. D. Tilden, Color)
1874 Atlas of Centre County Pennsylvania (Beach Nichols, A. Pomeroy & Co., 32 pages, Color)
---
We Also Recommend
---