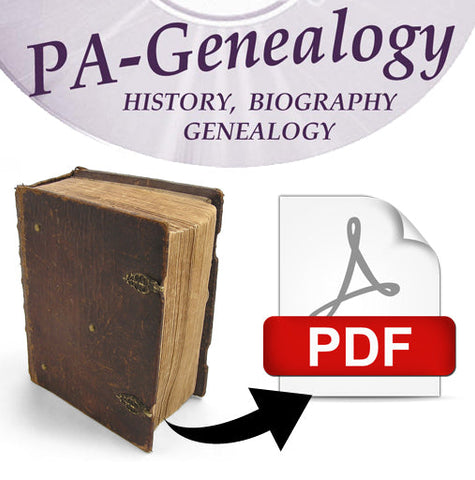 Blair County PA - Miscellaneous History and Maps Collection
This is a collection of various historical and genealogical reference works on Pennsylvania. These references cover 1000's of individuals, and are an excellent way to start or continue research focused on PA.
This material was scanned from original publications and will be provided as text searchable PDFs (unless noted in description). These files can be read using many PDF reader programs (Windows / Mac / Linux), however Adobe Reader or Acrobat are recommended.
Church, Family, Education, Military and other Miscellaneous Histories
Manual of the Second Presbyterian Church of Altoona, PA (1877, 30 pages)
This brief pamphlet contains a history of this church, its formation and growth through the years. It also contains a directory of around 800 past and present (1877) church members, giving their name and when they were received by the church.
Industrial and Commercial Resources of [Western] Pennsylvania
(Historical Publishing Company, 1887, 144 pages)
This publication is a history and description of the business operations from dozens of towns throughout Western Pennsylvania. Each business is detailed in sketch form, giving, in many cases, a brief history of its existence, management, and a description of its operations. This information was only published in this publication making this a rare and useful resource for historical or genealogical research in these counties of PA.
Blair County
-- From Altoona: -- Samuel Smith, C. T. Sharp & Co., Ezra Ale, M. F. Fleming & Co., J. Snyder, William F. Gable & Co., Alfred E. Goetz, D. G. McCullough, S. Bendheim, E. F. Miller, Wm. W. Rudisill, Isaac Bender, Edward Kottmann, John Hurd, E. B. Tipton, J. Ross Mateer, David Simon, Frank H. Stiles, P. H. Walls, J. F. Storm, C. B. Baumgardner, S. M. Griffith, Altoona City Photo-Copying House, R. T. Shields, The Bee-Hive Novelty Store, A. H. Bates, Germain Casanave, W. H. Irwin, The Leading Restaurant -- From Hollidaysburg: -- M'Kee & Cliber, First National Bank, Frank Glessner, Thomas H. Suckling, C. B. Jacobs & Son, Silas W. Maus' Five and Ten Cent Store, Henry S. Van Tries, Henry L. Bunker, Geo. V. Rollins, P. W. Snyder, Wm. C. Maus, Wolf Hardware Co., J. B. Condron, Joseph Frank -- From Tyrone: -- Templeton & Crawford, G. H. Burley & Co., Austin Brothers, Blair County Banking Company, Frank L. Beckel, Geo. H. Garner, A. A. Smith & Son, J. J. Miller & Sons, Juniata Gun Works, I. P. Walton, Bonine's Gallery of Artistic Photography, Study Brothers & Co., Scullin The Tailor, Judson S. Smith, A. C. Zerbee, Henchey Bros., S. C. Graham, C. Albright, John Langenbacher & Son, J. S. Waite & Co., Geo. W. Port, A. C. Fye
Young American Patriots - The Youth of Pennsylvania in World War II
(National Publishing Company, 1946, 674 pages)
This publication is a memorial to the service men and women of Pennsylvania who served in WWII. It contains brief sketches of 1,000's of soldiers from across the state. The sketches provide a variety of information on each soldier: Name, rank, branch of military, engagements, discharge date, military awards, birth date, parents, spouse, address, religion., etc. The information varies from soldier to soldier but most contain the information above. Also, nearly every sketch is accompanies by a portrait of the soldier.
This publication is not an exhaustive listing of all the soldiers of Pennsylvania who fought in World War II. Nearly all counties are represented, but some more extensively than others. Those given more extensive coverage include: Allegheny, Armstrong, Beaver, Blair, Butler, Cambria, Cumberland, Dauphin, Erie, Fayette, Indiana, Lawrence, Northampton, Westmoreland,
Here is a sample listing:
Abbott, William Edward
Cpl., Army. Born Apr. 6, 1925. Entered Serv. June 12, 1943. Ft. Belvoir; N. Guinea; Phil. Is.; Okinawa. Awarded GCM, As-Pac Rib., BS, Phil. Lib. Rib. Disch. Mar. 2, 1945. Attended Clymer HS. Protestant. Son of Mr. and Mrs. Otto Abbott. Husband of Margaret Herrington Abbott, 818 Sandusky St., N. S., Pgh, 12, Pa.
History of the Zion Evangelical Lutheran Church of
Hollidaysburg, Pennsylvania (Floyd G. Hoenstine, 1953, 66 pages)
This booklet presents a history of this Blair County Church, along with some historical details from the area at large. There are also several biographies of pastors, and a number of photographs of pastors and congregants.
Flood 1972 (Pennsylvania Mirror, 1972, 48 pages)
This is a souvenir of the 1972 Flood in Pennsylvania resulting from Hurricane / Tropical storm Agnes. A section of the publication shows some of the damage done in Blair County.
Maps, Atlases & Images
Maps & Atlases (*** Not text searchable ***)
1850's Map of the Farms in Sinking Valley, Blair Co. Penna (G. M. Hopkins, Color)
1859 Map of Blair County Pennsylvania (Geil & Freed, Color)
1873 Atlas of the Blair and Huntingdon Counties Pennsylvania (Beach Nichols and A. Pomeroy & Co., 1873, 58 pages, B/W)
Birds-eye Town Views (*** Not text searchable ***)
Penn'a R.R. Car Shops, Altoona Pennsylvania 1895 (T. M. Fowler & James B. Moyer, 1895)
Tyrone, Blair County, Pennsylvania 1895 (T. M. Fowler & James B. Moyer, 1895)
Birds Eye View of Williamsburg, Blair Co., PA 1906 (Fowler & Kelly, 1906)
---
We Also Recommend
---