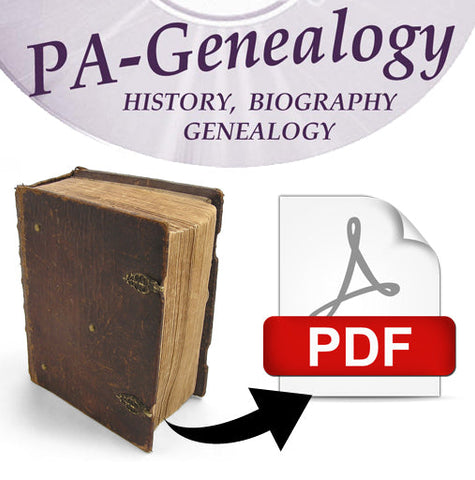 Berks County PA - Regional History Collection - West Reading-Wyomissing & Vicinity
This is a collection of various historical and genealogical reference works on Pennsylvania. These references cover 1000's of individuals, and are an excellent way to start or continue research focused on PA.
This material was scanned from original publications and will be provided as PDFs. You will receive an email with the download link after purchasing online. These files can be read using many PDF reader programs (Windows / Mac / Linux), however Adobe Reader or Acrobat are recommended. Unless notes, each of these files are text-searchable.
Fifty Years of Advancement 1907-1957 - Borough of West Reading Pennsylvania
(Howard F. Rickenbach, 1957, 130 pages)
This is a detailed history of the borough of West Reading, PA for the years 1907-1957. It begins by covering the very early history of the area, it's development and progress through the years. The publication is profusely illustrated with historical photographs and maps. It also includes a detailed list of local officials
Partners - A History of the Development of the Wyomissing Industries
(Wyomissing Industries, 1936, 180 pages)
This is an extensive illustrated history of Wyomissing Industries, the textile manufacturies: The Machine Works, Narrow Fabric Company, Bershire Knitting Mills and the Foundry.
---
We Also Recommend
---