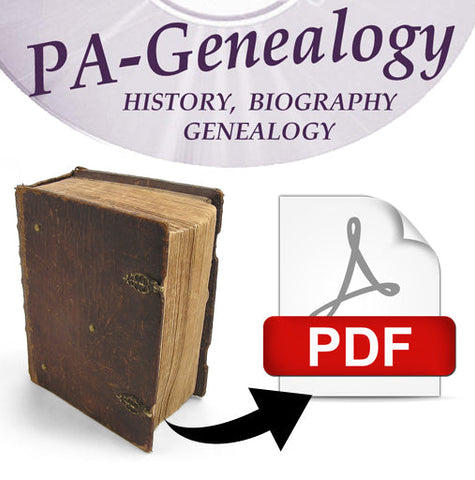 Berks County PA - Regional History Collection – Reading & Vicinity
This is a collection of various historical and genealogical reference works on Pennsylvania. These references cover 1000's of individuals, and are an excellent way to start or continue research focused on PA.
This material was scanned from original publications and will be provided as PDFs. You will receive an email with the download link after purchasing online. These files can be read using many PDF reader programs (Windows / Mac / Linux), however Adobe Reader or Acrobat are recommended. Unless notes, each of these files are text-searchable.
The Description of the Borough of Reading (Major William Stahle, 1841, 66 pages)
This booklet is a very early look at the city of Reading in Berks Co., PA.  According to the title page it is a description of "its population, institutions, trade, manufactures &c, &c, with a notice of its first settlement, and many curious historical matters."
Table of Contents:
I. - Location and first settlements of Reading
II. - The census of Reading, list of houses, number of taxable citizens
III. - List of Churches, showing location, dates of erection, Pastors
IV. - Courts, Judges, Attorneys, County officers, Justice of the Peace, Surveyors, Sheriffs, Physicians and Apothecaries
V. - Merchants and traders, Mechanics, Business cards
VI. - List of Public Hotels and Inns, Streets, Bridges, Markets
VII. - Post Office, Printing Offices, Banks, Public buildings
VIII. - Manufactures and Public improvements, Iron Works, Canals and Rail Road, Water Company
IX. - Education, Reading Academy, Female Seminary, Private, Infant and Free Schools, Sunday Schools
X. - Societies, Charitable, and literary, Libraries
XI. - Government of the Borough of Reading, Watchmen, Fire Companies
XII. - Miscellaneous Matters, Conclusion
Reading, PA [Bird's-Eye Town View] (J. Hanold Kendall, 1881)
This is a detailed image from birds-eye perspective of the city of Reading, Berks County, PA in the year 1881. It details streets, homes, businesses, churches, etc., providing a unique view of the city and wider area.
Glimpses of Reading, PA (Leinbach & Bro., Clothiers, About 1890-1900, 48 pages)
This is a pictorial souvenir of the city of Reading providing over 60 photographs of the city, its buildings, and surrounding attractions.
History of Trinity Lutheran Church, Reading PA, 1751-1894
(Jacob Fry, 1894, 300 pages)
The City of Reading and Vicinity and Their Resources
(J. H. Sutherland, 1896, 136 pages)
This publication is a very rare historical and biographical volume on Berks County, PA.  It was written as a memorial to the citizens of Reading and its vicinity, and features biographical sketches of some of the city's prominent individuals.  Further sketches focus on some of the city's important businesses and trades.  Along with the sketches, there are dozens of photogravures of the sketch subjects and buildings of the area, as well as local business advertisements.  The majority of the information presented is found only in this publication, making this an excellent source for historical or genealogical research.
Surnames Indexed:
Adams, Ahrens, Althouse, Auerbach, Beears, Behrens, Blachman, Blimline, Blessing, Blome, Boyer, Briner, Brown, Carpenter, Croessant, Croll, Daniell, Deck, Drexel, Eberley, Edwards, Endlich, Ermentrout, Eshelman, Fehr, Flicker, Fisher, Frame, Fries, Godrey, Goldman, Goodman, Griesemer, Gring, Haage, Hafer, Hantsch, Heckman, Heim, Hendricks, Herbein, Heizmann, High, Himmelberger, Hintz, Hipple, Hodges, Hoffman, Horst, Hutchison, Johnson, Kahler, Keller, Keppelman, Kessler, Kintzer, Kissinger, Kremp, Lambert, Lance, Landis, Lease, Leinbach, Lerch, Levan, Lichty, Long, Luden, Lutz, McConnell, McGowan, McNurney, Miller, Mohn, Moyer, Mull, Myers, Norton, O'Brien, O'Rourke, Palm, Reber, Reeser, Remppis, Rickert, Roehrich, Romig, Schlechter, Schlegel, Schmeck, Shanaman, Smith, Stine, Stocker, Strunk, Spatz, Tate, Thompson, Van Reed, Wagenhorst, Weber, Weidner, Wertz, Wetherhold, Wickel, Wickert, Worley, Yoder, Young
1748-1898 History of Reading Pennsylvania (Morton L. Montgomery, 1898, 362 pages)
This is a Sesquicentennial History of the City of Reading, Berks County, PA, from 1748-1898.  It gives an account of the early history of the area, the settlement and foundation of the town, as well as a description of its growth in various ways down through the years.
The City of Reading, Pennsylvania [Bird's-Eye Town View] (Bailey & Moyer, 1898)
This is a detailed image from birds-eye perspective of the city of Reading, Berks County, PA in the year 1898. It details streets, homes, businesses, churches, etc., providing a unique view of the city and wider area.
Souvenir of Reading, PA (G. A. Schlechter & J. Geo. Hintz, ~1900, 14 pages)
This is a souvenir of the city of Reading, Berks County, PA.  It contains around 3 dozen illustrations of Reading's historic and important buildings or other scenes around Reading.
Views of Reading (Schlechter's, 1901, 53 pages)
This publication was produced as a souvenir of the city of Reading, Berks County, PA.  It contains over 60 photographs of historic buildings or locations around the city.
History of the Reformed Church in Reading, PA
(Rev. B. Bausman & Daniel Miller, 1903, 474 pages)
1878-1903 Quarto-Centennial History of Grace Reformed Church,
Reading, PA (William H. Myers, 1903, 160 pages)
[Souvenir of] Reading (L. H. Nelson Company, ~1905-1910, 33 pages)
This publication was produced as a souvenir of the city of Reading, PA, at the time the 4th largest city in the state.  It contains over three dozen photographs of historic buildings or locations around the city.
Reading - Old and New (H. A. DeForest, 1909, 80 pages)
This is a historic and photographic highlight of the city of Reading, Berks County, PA and vicinity.  The cover titles this publication "Herald of a New and Better Reading."  It begins with a brief history of Reading's foundation and expansion since, and then highlights it commercial, industrial and civic prospects.  The remaining portion of the publication is devoted to sketches of the business and industrial operations of Reading and Wyomissing.  This publication also contains over 200 photographs of Reading's important buildings, businesses and some of its leading citizens.
Sketches of Businesses and Business People:
Consumer's Gas Company, Norton Printing House, Lord & Gage Department Store, C. K. Whitner & Co. Department Store, J. O. Glase & Co., Edw. Pengelly & Brother, First National Bank, Leinbach & Bro., Abner S. Deysher, National Hook and Eye Company, Mansion House, Farmers' Hotel, G. M. Britton Co. Department Store, Consolidated Telephone Co.'s of Pennsylvania, Reading Cold Storage & Ice Co., George W. Beard & Co. Inc., E. R. Snyder, Lance Lumber Co., J. S. Bachman, Hafer & Bro., A. W. Wolfinger Co., Edmund J. Gable, Penna. Pretzel Co., Nolan Real Estate and Insurance Agency, Mrs. Frank Miller,  C. F. Heller Bindery, Allen D. Boady, A. F. Epler, Penn Troy Laundry, Evans' Jewelry Store, P. M. Ziegler Co., Reading Standard Company, Wm. F. Remppis Co., Reading Ribbon Badge Co., J. C. Miller, Wm. F. Rissmiller, Baer Building, J. Mould & Co., Louis Heilbron, Leinbach Box Company, Reading Trust Company, Pennsylvania Knitting Mills Co. of Reading, J. W. Holmes & Co., Penn Chain Works, Reading Electric Co., Reading Chandelier Works, J. G. Mohn & Bros., Luther G. Dauth, Stetler & Mengel, Pear and Isecovitz, Kline Eppihimer & Co., I. M. Beaver, Heny Martz, C. W. Behrle, Metropolitan Knitting Mills, Frank Harner, Loeper & Son, Reading Bell Telephone Service, Reading Mutual Life Insurance Company, A. R. Orth & Son, Banford A. Kemp, Standard Paper Box Manufacturing Co. LTD., Brehm Bros., H. Merget, Penn Nationals Bank, Wm. D. Wolfinger, J. G. Speidel, D. L. Reber, H. A. Brown, G. B. Kostenbader, F. S. Edwards, Jeremiah K. Grant, Mt. Penn Pattern Works, Samuel Mlodoch, Star Theatre, A. W. Haag & Co., E. M. Gingrich, Dr. A. Esenwein, H. J. Heck, American Iron and Steel Manufacturing Co., John G. McGowan Co., Gehris Herbine Co., Gaenzle & Regenfuse, Caleb Weidner, W. C. Borst, Reading Engraving Co., Bakers' Corporation Co., Farmers' National Bank, Reading Steel Casting Co., Reading Typographical Union No. 86, W. H. Schearer, Morgan Paint Co., A. B. Saylor Blome, F. H. Shaw, Koller's Ice Cream and Confectionary, Steiner & Talcott Silk Co., Ammon & Bro., C. W. Haas & Co., Berks Manufacturing Co., West Lawn Building Lots, W. M. Leinbach & Sons, Albright & Shenton, John B. Dampman, Berks Auto and Garage Co., John J. Kern, D. Benton Silvis, The Penn, E. M. Keller, John H. Stegman, E. W. Bosold, J. P. Sellers & Co., Jos. O. Flatt & Co., W. F. Stern, W. F. Bellemere, Reading Pants Mfg. Co., L. H. Focht & Son, Engle & Van Denberg, William T. Snyder, H. L. O'Brien, Arbogast & Bastian Company, J. F. Kachline, Oscar L. Woerner, Hospitable Hotel and Host City Hotel, T. P. Moore, Central Bowling Alleys, J. C. Bauder, Wm. H. Dechant Engineer, Reading Rug Works, W. W. Wunder, W. A. Sharp, Grand Union Tea Co., I. M. Francis, L. B. Barrel, Monarch Visible Typewritter, Warren F. Linderman, Wertz Milling Co., Wm. C. Rheinwalt, Noble A. Barnett, Textile Machine Works, Berkshire Knitting Mills, Arnolds Commercial Book Shop, Dives Pomeroy & Stewarts Department Store, B. W. Ziegler Art and Wall Paper Store, Nick F. Smith, Pennsylvania Trust Co., E. B. Lutz, Berthold Imhoff, John Kuebler & Co., Elmer E. Moore & Bro., Chas. H. Schlegel, American King Herb Co., Paul A. Russell, Dominic Maurer, Luria Bros. & Company, Bertolet & Hunter, John P. Kline, Reading Candy Kitchen, William Grieshaber, D. C. Kalbach & Bro., Geo. R. Maltzberger, A. J. Funk's Candy Kitchen, Wm. H. Rapp & Co., A. J. Brumbach, Keystone Badge Co., Heck Brothers, Keystone Electric, Geo. C. Pease, Second National Bank, Schuylkill Seminary, Howard E. Gerhardt, I. Rhoads, Reading Radiator Co., Daniel H. Hunter, E. B. Wolf, E. F. Wink & Co., Modern Shoe Reparing Co., White House Spring Water, Robert W. Madeira, F. E. Hafer, F. W. Woolworth & Co., Reading Waste Paper Co., Gottlieb Mayer, Herald Engraving Co., Irvin D. Neff, Maurice E. Roeder, Mrs. M. E. Boas, J. W. Clark, W. C. K. Fisher, Equitable Life Ins. Co., Jesse M. Sprecher, George I. Dengler, Yocum & Gring, Mrs. H. P. Dinsen, Reading Overall Supply Co., D. E. Hassler, Board of Health, A. C. Clauser, Queen Washer, Xander Machine and Supply Company, Dr. Hacker Specific Co., Irving Riggs, A. & E. Harvey, Adler Leaf Tobacco Co., D. H. Maurer, Strohecker's Rubber Tire and Carriage Works, Miss May Lowry
The Penn Street Viaduct (D. K. Hoch, 1914, 21 pages)
This is a pictorial and descriptive account of the Penn Street Viaduct constructed around 1914. It also presents a history of other bridges built prior to this, along with historic drawings and photographs. It also contains portraits of city officials of the time.
Classified Business Directory of Eastern Pennsylvania
(Lehigh Valley Review, 1919, 212 pages)
This is a business directory of several counties in Eastern Pennsylvania for the year 1919. The counties covered in part are: Berks, Bucks, Carbon, Lehigh, Luzerne, Monroe, Northampton and Schuylkill. The directory information is listed by town, then alphabetically by trade. It gives the name of the business person or company and their address. Main emphasis is given to the major cities of the area including: Allentown, Bethlehem, Easton, East Stroudsburg, Hazleton, Mauch Chunk, Phillipsburg [NJ}, Pottsville, Reading, South Bethlehem, and Stroudsburg. Also covered are some smaller areas: Aquashicola, Bangor, Bath, Belfast, Bossardsville, Bowmanstown, Brodheadsville, Catasauqua, Clemonton, Coaldale, Coopersburg, Delaware Water Gap, East Mauch Chunk, Egypt, Emaus [Emmaus], Freemansburg, Fullerton, Hellertown, Lansdale, Lehighton, Macungie, Mt. Pocono, Nazareth, Nesquehoning, Northampton, Palmerton, Pen Argyl, Perkasie, Quakertown, Rittersville, Roseto, Ross Common, Saylorsburg, Slatington, Stockertown, Summit Hill, Tamaqua, Tatamy, Walnutport, Weissport and Wind Gap.
The Reading Militia in the Great War (J. Bennett Nolan, 1921, 202 pages)
The Conclusion gives a nice summary as to what perspective this book gives:
"………What is given here purports to be a plain, unvarnished recital of the careers of old Companies A and I in the Great War. The writer, though unattached to either company during the war, has had the advantage of having been personally over most of the terrain covered by the lads in their peregrinations in France. He has talked to scores of modest boys, recounting in our kindly local accent and in the most matter-of-fact way, sacrifices and achievements which should ring down the years. He has been enabled to read many letters written from overseas to relatives and friends. He has had the advantage of several excellent diaries; in particular, of the very admirable and complete record kept by Sergeant Smith, the Ulysses of Company I. Spontaneous communications of this sort have a grip and a thrill which is not to be attained by any form of literary invention….."
Part 1
Foreword
1 - Departure and Embarkation
2 - The Baccarat Sector
3 - The Champagne Front
4 - The St. Mihiel Drive
5 - The Argonne-Meuse Campaign
6 - The Army of Occupation
Part 2
1 - The Training Camp
2 - The Fismes Sector
3 - The Argonne
4 - The Projected Attack on Metz
Conclusion
Company "I" - Dead
Company "A" - Dead
Company "I" - Wounded
Company "A"- Wounded
Company "I" - Roster
Company "A" – Roster
The Official Pictorial Record of the 175th Anniversary of the
Founding of Reading, PA (M. S. Graver, 1923, 109 pages)
This is a pictorial record of the 175th Anniversary Celebration of Reading, showing dozens of photographs of the anniversary parade and those participating in the celebration.
Souvenir Program of the 175th Anniversary of
the Founding of Reading, PA (Anonymous, 1923, 165 pages)
This is a program of the events associated with the 175th Anniversary celebration of Reading's Founding.  In addition to covering the events of the celebration, it provides a description of the town and its prominent members, a list of those involved in the celebration, views of various buildings of the city, and numerous ads for local businesses.
Historic Reading From 1748-1923 (Anonymous, 1923, 31 pages)
This booklet contains a series of brief snippets of Berks County history.
Historical Annals of Christ Church, Reading, PA. (William DuHamel, 1926, 136 pages)
Rare and Early Prints of Reading (The Reading Eagle, 1968, 22 pages)
This booklet is a collection of historic pictures pertaining to the city of Reading, Berks County, PA.
---
We Also Recommend
---