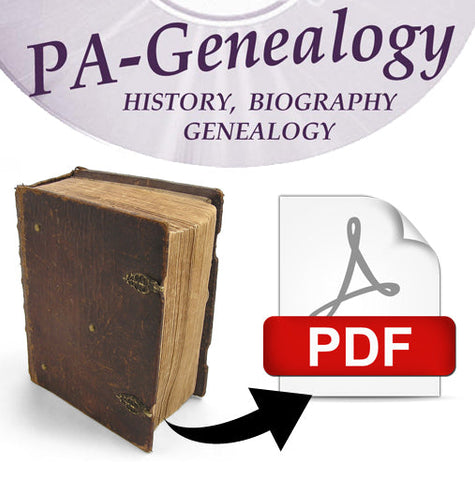 Adams County PA - Misc Histories, Maps Atlases & Images Collection
This is a collection of various historical and genealogical reference works on Pennsylvania. These references cover 1000's of individuals, and are an excellent way to start or continue research focused on PA.
This material was scanned from original publications and will be provided as text searchable PDFs (unless noted in description). These files can be read using many PDF reader programs (Windows / Mac / Linux), however Adobe Reader or Acrobat are recommended.
Church, Family, Military and Miscellaneous Histories
A Historical Sketch of Christ's Church in Union Township,
Adams County, Pennsylvania (John Ault, 1876, 18 pages)
The account begins with a brief history of the settlement of the area, followed by the formation and growth of the church.
Historical Discourse, the Presbyterian Church of
Gettysburg, Penn'a. (J. K. Demarest, 1876, 43 pages)
This is a history of the Presbyterian Church of Gettysburg, Adams County, PA. It covers the formation and growth of the church and the men who served the congregation.
History of Saint Aloysius Church of Littlestown,
Penn'a (William McSherry, Jr., 1893, 132 pages)
From the Preface: "These pages have been written so that some of the good deeds and the memory of those who have gone may not be forgotten." The account begins with a brief history of the town of founded by Peter Little. It then proceeds into a history of this Catholic church which had its beginnings in 1741. There is a listing of burials, and a section featuring biographies of the men who served the congregation: James Pellentz, D. Stanislaus Cerfoumont, Francis Xavier Brosius, Demetrius Augustin Gallitzen, John Nicholas Mertz, Adolphus Lewis De Barth, Matthew Lekeu, Michael Dougherty, J. Roger Dietz, James Cotting, Peter Manns, Francis Xavier De Neckere, George Villeger, Ignatius Renaud, James J. Gormley, Thomas Joseph Crotty, Basil Anthony Shorb, Florence J. Sullivan, and James Duncan.
After this is a section on Memorials and Obituaries and covers a number of individuals associated with the church: Patrick McSherry, John Shorb and wife Mary, Joseph A. Shorb, Dr. Samuel G. Kinzer and wife Maria L., Dr. John Shorb Kinzer, Joseph Fink, Henry Spalding, Mrs. Eliza T. McSherry, Jacob Baumgardner, F. X. De Neckere, William Rider, Mrs. Louisa Long, Mrs. Matilda Starr, and Joseph L. Shorb.
The Stewarts of Coitsville - A History of Robert and Sarah Stewart
of Adams County, PA (Stewart-Bailey Committee, 1899, 207 pages)
This publication is a brief record of the Stewart family. One of its branches settled in Adams County, Pennsylvania, and this makes up the focus of this publication, following the descendants down through time, and as they spread out across the country, particularly to Ohio.
Adams County in the World War April 6, 1917 to November 11, 1918
(Paul L. Foulk & Percy S. Eichelberger, 1921, 300 pages)
This is a history of the involvement of Adams County, PA's citizens in World War I. The goal of this publication was to 'sketch the general work done by each individual during his tour of duty in the War.' It covers various sections of the county in turn, highlighting the soldiers from each area, and providing such information as birth date, parents names, service dates, companies, engagements, injuries, etc. Each sketch is different and covers slightly different information, so not all sketches contain each of the above details. There is also a separate section on the soldiers who died in the course of their service, providing similar information on them but almost all also include a portrait. This is a wonderful collection of information useful for historical or genealogical research in Adams County.
Eight Centuries of Spanglers (Belmont Farley, 1939, 64 pages)
This privately published work was compiled as a brief history of the Spangler family. The history touches on Adams and York County, as some of the early members of the family in America settled in these areas.
History of Christ Reformed Church (Evan. & Ref.) 1746-1947 Union Township,
Adams County, near Littlestown, PA (Rev. John Clark Brumbach, 1947, 176 pages)
This book is a history of Christ Reformed Church near Littlestown, a historic Pennsylvania congregation. This history relates the formation and growth of the congregation through the years, along with details pertaining to its ministers and members. It covers the ministries of Michael Schlatter, Theodore Frankenfield, John Conrad Steiner, Sr., John Waldschmidt, Jacob Lischy, John Jacob Zufall, John Christopher Faber, Charles Lewis Boehme, John Christopher Gobrecht, Charles Helffenstein, Jacob Henry Wiestling, Frederick William Bindeman, Samuel Gutelius, Jacob, Sechler, John M. Clemens, Caspar Scheel, John Ault, John Kretzing, F. S. Lindaman, W. A. Kline, H. H. Hartman, and John C. Brumbach.
Other sections of the publication include: sons and daughters of the church who in turn entered the service of the church in some fashion, a history of the sunday school with lists of students in various classes, lists of members of the various church organizations and offices, a list of veterans who were buried in the church cemetery from the Revolutinary War to World War I, a list of World War II servicemen, and a list of those who sponsored this history.
Maps, Atlases & Images Collection (*** Not text searchable ***)
1821 Map of York and Adams Counties [Pa] (D. Small & W. Wagner, Color)
1850's Map of Adams Co., Pa (Unattributed, B/W)
1858 Map of Adams Co., Pennsylvania (G. M. Hopkins, C.E., Color)
1872 Atlas of Adams Co. Pennsylvania (D. J. Lake, I. W. Field & Co., 35 pages, B/W)
Birds-eye Town View (*** Not text searchable ***)
Gettysburg, Pennsylvania (1888, T. M. Fowler)
---
We Also Recommend
---