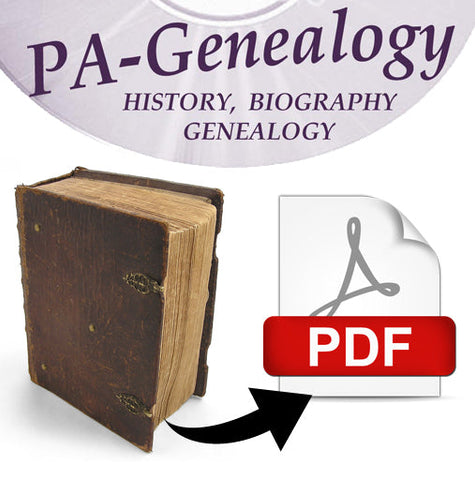 Pennsylvania Records Collection
RC01 - Pennsylvania Records Collection
Names of Person for Whom Marriage Licenses Were Issued in the Province of Pennsylvania
Previous to 1790 (John Blair Linn & William Egle, 1876, 368 pages)
This publication outlines the names of persons for whom marriages licenses were issued in the state of Pennsylvania prior to 1790. After the Revolution, the practice of keeping official records of marriages fell out of favor. The body of the publication is a list of marriages arranged in alphabetical order, and lists the date that the marriage license was issued, and the bride and groom's names. In all, there are hundreds of marriages recorded, making this a valuable tool for genealogical research in Pennsylvania.
The appendix offers additional marriage data:
1) Marriages of the First Church of Philadelphia, the First Presbyterian Church of Philadelphia, the Presbyterian Church of Abington, Montgomery County, and the Trinity P. E. Church of Oxford.
2) Pennsylvania Marriage Licenses, 1742-1748
3) Pennsylvania Marriage Licenses issued by Governor James Hamilton, 1748-1752
4) Marriage Licenses Issued in the Secretary's Office from August 1755 to April 1759
Record of Pennsylvania Marriages Prior to 1810 [Volumes 1 & 2]
(John B. Linn & Wm. H. Egle, 1878, 1879, 1414 pages)
This work is an extensive collection of early Pennsylvania marriages records. These volumes were published as part of the Pennsylvania Archives series, and provide a wonder set of information for research.
The churches represented are:
Christ Church, Philadelphia, 1709-1806
Swede's Church (Gloria Dei), Delaware Co., 1750-1810
1st Pres. Church of Carlisle, Cumberland Co., 1785-1812
St. Paul's Epis. Church, Chester, Delaware Co., 1704-1733
Ref. Church of Falkner Swamp, Montgomery Co., 1748-1800
Luth. Church of New Hanover, Montgomery Co., 1745-1809
German Ref. Church of Philadelphia, 1748-1802
First Baptist Church of Philadelphia, 1761-1803
Paxtang & Derry Churches, Dauphin Co., 1741-1810
1st Pres. Church of Philadelphia, 1702-1745 & 1760-1803
Moravian Church of Bethlehem & Nazareth, Northampton Co., 1742-1800
Moravian Church of Lititz, Lancaster Co., 1743-1800
Moravian Church of Philadelphia, 1743-1800
Neshaminy Pres. Church, Hartsville, Bucks Co., 1785-1804
St. James Epis. Church, Perkiomen, Montgomery Co., 1788-1810
Abington Pres. Church, Montgomery Co., 1716-1821
Marriages Authorized by the Philadelphia, Middletown, Falls, Buckingham, Quakertown & Wrightstown Monthly Meetings of Friends, 1682-1810
St. Michael's & Zion Church of Philadelphia, 1745-1800
St. Paul's Church, Philadelphia, 1759-1806
Pres. Church of Churchville, Bucks Co., 1738-1810
2nd Pres. Church of Philadelphia, 1763-1812
3rd Pres. Church of Philadelphia, 1785-1799
A Collection of Upwards of 30,000 Names of German, Swiss, Dutch,
French and other Immigrants to Pennsylvania From 1727 to 1776
(I. Daniel Rupp, 1880, 522 pages)
This publication consists mostly of an extensive compilation of ship lists for European immigrants who ultimately settled in Pennsylvania. The information includes the ship name, captain, port of departure, and passenger lists for hundreds of ships which sailed from 1727 to 1776. The appendicies at the end of the book offer additional information: The Names of the first settlers of Germantown from 1683-1710, Names of early settlers of Berks, Lebanon, Montgomery & Philadelphia Counties, Swiss & German settlers in Lancaster County from 1709-1730, Names of those who accompanied Rev. Joshua Kocherthal to NY, Names of the heads of families who remained in NY, Names of the 1st Palatinates in North Carolina 1709, 1710, Names of Germans who settled in Georgia 1734-1741, etc.
This 2nd edition is a revised and improved work, adding much additional information, and giving the previous information a better arrangement. The information is related both in German and in English. This is a wonderful collection of information for historical or genealogical research in Pennsylvania, especially since these records would be the first mention of these individuals in America.
Register of the Marriages and Baptisms of the
Rev. Traugott Frederick Illing (E. W. S. Parthemore, 1891, 43 pages)
This publication is a collection of church records from two central Pennsylvania Churches: St. Peter's Lutheran Church, Middletown, Dauphin County, and Caernarvon Episcopal Church, Lancaster County. It begins with a brief historical account of the churches and then goes into the records, including lists of subscriptions from 1773-1781, marriages from 1780-1799, baptisms from 1780-1798, and concludes with biographical notes on a number of individuals associated with the church.
Names of Foreigners who Took the Oath of Allegiance in the Province
and State of Pennsylvania 1727-1775 With Foreign Arrivals 1786-1808
(William Henry Egle, 1892, 790 pages)
This book is a useful set of records for those doing historical or genealogical research in Pennsylvania. It first section consists of lists of individuals from 1727-1775 who immigrated to Pennsylvania and took oaths of allegiance to the Crown of England and Pennsylvania. All males age 16 and older were obliged to take the oath. The names are arranged according to the time they arrived and what ship the arrived on. Usually, only the men are recorded, but in some cases entire ship lists are recorded including men, women, and children, and some of these also provide the ages of all aboard. Several thousand names are recorded of mainly German and Swiss immigrants. The second section covers the period after the Revolutionary War from 1786-1808, and relates similar information. A useful feature of this publication is the index at the end, listing all the named individuals.
Provincial Papers: Warrantees of Land in Several Counties
of the State of Pennsylvania 1730-1898 [Volumes 1-3]
(William Henry Egle, 1898, 1899, 2513 pages)
These volumes are from the Pennsylvania Archives, Third Series, volumes 24-26. They provide a list of early land warrants, by county, citing the person's name, the size of the tract and the date of survey. These were issued mostly for interior counties of the State, and the majority were issued before the Revolutionary War or shortly thereafter, as settlers moved west. This collection is an excellent resource of early data for historical or genealogical research.
The counties included are: Armstrong, Bedford, Berks, Blair, Bradford, Bucks, Centre, Chester, Clarion, Clearfield, Clinton, Cumberland, Dauphin, Elk, Forest, Franklin, Fulton, Green, Huntingdon, Indiana, Juniata, Lackawanna, Lancaster, Lawrence, Lebanon, Lehigh, Luzerne, Lycoming, McKean, Montour, Northampton, Northumberland, Perry, Philadelphia, Pike, Schuylkill, Snyder, Sullivan, Susquehanna, Tioga, Washington, Wayne, Westmoreland, and Wyoming.
Heads of Families at the First Census of the United States
taken in the Year 1790 [Pennsylvania]
(Bureau of the Census, S. N. D. North Director, 1908, 428 pages)
This publication is a copy of the Pennsylvania portion of the first U.S. Federal Census taken in 1790. The information given for each family is the name of the family head, the number of free white males age 16 and over, the number of free white males under age 16, the number of free white females and the number of slaves. This families are listed by county and in some counties also arranged by town or township. Also included is a map of the state showing the county lines at the time of the census. This is one of just a few resources for historical or genealogical research from this period of the nation's history.
In Old Pennsylvania Towns
(Anne Hollingsworth Wharton, 1920, 384 pages)
From the Introduction: "To gather together some record of these associations, while those still living are able to recall stories, handed down from father to son, of the days when many of these towns were frontier forts, has been the object of the writer, all well as to record the recollections of later and eventful days just before and soon after the Civil War..." This publication is a record of some of the towns and cities across Pennsylvania at a time when they were still just developing. The writer relied on many old time residents of these towns and villages for much of the narrative presented here. It includes the towns (cities) of Lancaster, Lebanon, Gettysburg, Columbia, York, Chambersburg, Shippensburg, Carlisle, Harrisburg, Pittsburgh, Washington, Fort Bedford, Hollidaysburg, Jenny Lind, Sunbury, Wilkes-Barre, the Schuylkill, Pottsville, Reading, Allentown, Bethlehem, and Chester.
Central Pennsylvania Marriages 1700-1896
(Charles A. Fisher, 1946, 92 pages)
This publication is a compilation of marriage records focused on Snyder and Union Counties, Pennsylvania. This collection of information is an excellent resource for genealogical data.
The records were organized into seven sections:
1 - Miscellaneous Marriages 17001896
2 - Union County Marriages 1795-1829
3 - Marriages performed by Rev. J. G. Anspach 1831-1850 (Union County)
4 - Marriages performed by Rev. J. P. Shindel 1835-1887 (Snyder & Union Counties)
5 - Marriages performed by Rev. A. B. Casper 1839-1882 (Snyder & Union Counties)
6 - Marriages performed by Rev. C. G. Erlenmeyer 1840-1875 (Snyder County)
7 - Revolutionary Soldier Marriages
Revolutionary Pensioners - A Transcript of the Pension List
of the United States for 1813 (Southern Book Company, 1953, 49 pages)
This publication is a reprint of a document originally written to the House of Representatives from the War Department in 1813. It contains a listing of all United States Pensioners, their rank, and the amount paid annually as of 1813. The lists are arranged by state, each of the original 13 being represented. This is a useful collection of information for historical or genealogical research in the eastern United States.
---
We Also Recommend
---