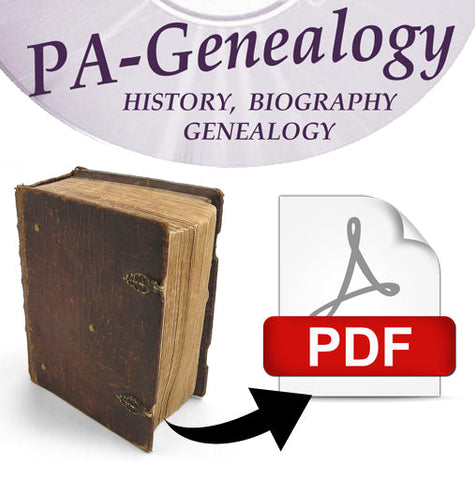 Bucks County PA - Directory Collection (1860-1937)
This is a collection of various historical and genealogical reference works on Pennsylvania. These references cover 1000's of individuals, and are an excellent way to start or continue research focused on PA.
This material was scanned from original publications and will be provided as text searchable PDFs (unless noted in description). These files can be read using many PDF reader programs (Windows / Mac / Linux), however Adobe Reader or Acrobat are recommended.
Boyd's Business Directory of the Counties of Adams, Bucks, Chester,
Cumberland, Dauphin, Delaware, Franklin, Lancaster, Montgomery and
York, PA. together with a General Directory of all the Inhabitants
of Harrisburg 1860 (William H. Boyd, 1860, 326 pages)
This is an early resident directory of Harrisburg, and business directory of 10 counties in southeastern Pennsylvania. The directory of Harrisburg lists the resident's name, occupation, street address and whether they board or own the home. The business directory is arranged alphabetically by trade and lists the name of the business or business-person, and their location (Town). Along with the directory listings, there are also numerous ads for local businesses.
Business Directory and Gazetteer of Bucks County,
Pennsylvania (S. Hersey, 1871, 434 pages)
According to Title page: "Containing the names, business and Post Office address of Merchants, Manufacturers, Professional Men and Farmers." In addition to the directory, this publication also contains a brief history of the county and its towns and townships.
Bucks County Directory - 1894 (James D. Scott, 1894, 362 pages)
According to Title page: "Containing the names of the Citizens of the entire County, arranged alphabetically by Boroughs, with a complete list of voters and others throughout the County, with their Post Office Address, together with a general Business Directory, and an appendix giving Banks, Churches, Societies, &c."
Bucks County Directory - 1902 (J. L. Kramer, 1902, 484 pages)
This is a post office and business directory of Bucks County, PA for the year 1902, containing the names of all the men of the county over 21 years of age, as well as men and women who owned real estate. Names are arranged by borough and townships, with occupation and post office address.
January 1st, 1904 Telephone Directory
(Standard Telephone and Telegraph Co., 1904, 32 pages)
This is an early telephone directory of the area of Pennsylvania and New Jersey near Doylestown. The directory information includes the householder's name, telephone number, and whether the location is a residence or business.
Pennsylvania Towns Included:
Attleboro, Bristol, Buckingham, Doylestown, Eden, Hatboro, Hulmeville, Langhorne, Midway, Milford Square, Morrisville, Newtown, Penn's Park, Perkasie, Pineville, Quakertown, Wrightstown, Wycombe, Yardley,
New Jersey Towns Included:
Beverly, Burlington, Delanco, Riverside
Telephone Directory - Philadelphia & Vicinity - January 1911
(The Bell Telephone Company of PA, American Telephone &
Telegraph Co. & The Diamond State Telephone Co., 1911, 568 pages)
This is a telephone directory for Philadelphia and surrounding areas for the year 1911, including sections of New Jersey, New York, Maryland, Delaware and Virginia. The areas of Pennsylvania covered are the city of Philadelphia, and Bucks, Chester, Delaware, and Montgomery Counties.
Towns Included:
Abington, Allentown, Ambler, Andalusia, Ardmore, Atglen, Atlantic City, Avondale, Bargaintown, Barnegat City, Beach Haven, Bellemead, Berlin, Berwyn, Bethayres, Beverly, Blackwood, Belmont, Bordontown, Bridgeton, Bristol, Bryn Mawr, Buckingham, Burlington, Camden, Cape May, Cedarville, Center Point, Cheltenham, Chester, Chester Heights, Chester Springs, Chestnut Hill, Coatesville, Collegeville, Collingswood, Concordville, Conshohocken, Cookstown, Cranbury, Cynwyd, Darby, Devon, Dividing Creek, Downingtown, Doylestown, Eddington, Egg Harbor, Eagle, Elmer, Exton, Fox Chase, Gibbstown, Glassboro, Glen Mills, Glouchester, Grenloch, Haddon Heights, Hatboro, Hightstown, Hockessin, Honeybrook, Imlaystown, Iona, Jacksons Mills, Juliustown, Kemblesville, Kennet Square, Lakewood, Langhorne, Lambertville, Lansdale, Lansdowne, Laurel Springs, Lawrenceville, Lenape, Line Lexington, Llanerch, Longport, Lumberville, Marcus Hook, Marsh, Mays Landing, Medford, Media, Melrose, Mendenhall, Merchantville, Merion, Millville, Moorestown, Morrisville, Morton, Mount Holly, Mullica Hill, Narberth, Newark, New Castle, New Egypt, New Hope, Newtown, Newtown Square, Norristown, Northmont, North Wales, Oak Lane, Ocean City, Ogontz, Overbrook, Oxford, Paoli, Parksburg, Passer, Paulsboro, Pemberton, Penington, Pennsburg, Penn's Grove, Perkasie, Philadelphia, Phoenixville, Pitman, Plainesboro, Pleasantville, Plymouth Meeting, Point Norris, Point Pleasant, Port Kennedy, Pottstown, Princeton, Pughtown, Quakertown, Ridley Park, Riverton, Rosenhayn, Royersford, Salem, Sea Isle City, Schwenksville, Sellersville, Sharon Hill, Somers Point, Souderton, Springtown, Sugartown, Swarthmore, Swedesboro, Sykesville, Toms River, Trenton, Tuckerton, Union Station, Vineland, Waretown, Wayne, Wenonah, West Chester, West Grove, Westville, Whitemarsh, Wildwood, Williamstown, Willow Grove, Wilmington, Woodbine, Woodstown, Wrightstown, Wycombe, Yardley
Telephone Directory - October 1912 - Jenkintown - Doylestown District
(Bell Telephone Co. of PA & American Telephone & Telegraph Co., 1912, 64 pages)
This is an early telephone directory covering parts of Bucks and Montgomery Counties, Pennsylvania for the year 1912. This directory lists many of the residents and businesses from these areas, providing the resident's (or business') name, address and telephone number.
Towns Included:
Ambler, Andalusia, Bethayres, Bristol, Buckingham, Cheltenham, Chestnut Hill, Doylestown, Eddington, Feasterville, Ferndale, Hatboro, Hulmeville, Langhorne, Lansdale, Line Lexington, Melrose, Morrisville, New Hope, Newtown, North Wales, Ogontz, Passer, Perkasie, Plumsteadville, Quakertown, Sellersville, Souderton, Springtown, Whitemarsh, Willow Grove, Wycombe, Yardley
The Farm Journal Farm and Business Directory of Bucks County
Pennsylvania, 1914 (Wilmer Atkinson Company, 1914, 276 pages)
This is a farm and business directory of Bucks County, PA for the year 1914. It contains a list of Bucks County public officials and a number of local advertisements as well as the directory information. The directory information consists of the names of farmers and details such as the wife's name, number of children, location of farm, number of acres, a notation of whether they are retired, own their farm or are tenants, etc. At the end of the publication there is a classified business directories for the county, listing businesses by trade.
Classified Business Directory of Eastern Pennsylvania [1919]
(Lehigh Valley Review, 1919, 212 pages)
This is a business directory of several counties in Eastern Pennsylvania for the year 1919. The counties covered in part are: Berks, Bucks, Carbon, Lehigh, Luzerne, Monroe, Northampton and Schuylkill. The directory information is listed by town, then alphabetically by trade. It gives the name of the business person or company and their address. Main emphasis is given to the major cities of the area including: Allentown, Bethlehem, Easton, East Stroudsburg, Hazleton, Mauch Chunk, Phillipsburg [NJ}, Pottsville, Reading, South Bethlehem, and Stroudsburg. Also covered are some smaller areas: Aquashicola, Bangor, Bath, Belfast, Bossardsville, Bowmanstown, Brodheadsville, Catasauqua, Clemonton, Coaldale, Coopersburg, Delaware Water Gap, East Mauch Chunk, Egypt, Emaus [Emmaus], Freemansburg, Fullerton, Hellertown, Lansdale, Lehighton, Macungie, Mt. Pocono, Nazareth, Nesquehoning, Northampton, Palmerton, Pen Argyl, Perkasie, Quakertown, Rittersville, Roseto, Ross Common, Saylorsburg, Slatington, Stockertown, Summit Hill, Tamaqua, Tatamy, Walnutport, Weissport and Wind Gap.
Bangor and Nearby Points Telephone Directory - December 1936
(Blue Mountain Telephone and Telegraph Co., 1936, 282 pages)
This is a telephone directory of covering parts of Berks, Bucks, Carbon, Lehigh, Monroe, Northampton, Schuylkill counties Pennsylvania and a portion of New Jersey for the year 1936. The directory lists 1,000's of residents and businesses, and provides the resident's name, street address and telephone number arranged alphabetically by town. This directory also includes the "yellow pages" section covering the businesses of the same area.
Pennsylvania Towns:
Achenbach Hill, Achermanville, Albany, Albrights, Alburtis, Allentown, Alpha, Altonah, Aluta, Andreas, Appenzell, Aquashicola, Ashfield, Ashland, Ballietsville, Bangor, Bath, Bath Junction, Bath Portland, Patts Switch, Beaver Run Valley, Beersville, Belfast, Benningers, Bergers, Berlinsville, Best, Best Station, Bethelhem, Bingen, Bittners Corner, Bloomingdale, Bossardsville, Bowmanstown, Breinigsville, Bridgeton, Brodhead, Brodheadsville, Bucksville, Bursonville, Bushkill Center, Butztown, Carbon, Catasauqua, Cedarville, Cementon, Center Valley, Centronia, Chain, Chapman Quarries, Chapmans Station, Cherry Hill, Cherry Valley, Cherryville, Coaldale, Colesville, Coopersburg, Copella, Coplay, Cross Roads, Daniels Slate Quarry, Danielsville, Dannersville, Deibertsville, Delabole, Dilllinger, Dorney Park, Dorneysville, Drehersville, Durham, Durham Furnace, Eagle Point, East Bangor, East Danielsville, East Mauch Chunk, Easton, East Texas, East Weissport, Eckert, Eckville, Edelman, Effort, Egypt, Emaus, Emerald, Erwinna, Factoryville, Farmersville, Ferndale, Flicksville, Fogelsville, Forks, Fountain Hill, Four-Mile House, Fox Gap, Freemansburg, Friedens, Friedensville, Fullerton, Georgetown, Germans Corner, Germans Station, Germansville, Gilbert, Glendon, Greenawald, Greenawalds, Griesemersville, Guths Station, Guthsville, Hackelbernie, Hanoverville, Harpers, Harrity, Harrow, Hatchery, Hauto, Haycock, Heicktown, Hecla, Hellertown, Hoffmansville, Hokendauqua, Hollo, Howertown, Indianland, Iron Hill, Ironton, Island Park, Jacksonville, Jamestown, Johnsonville, Jordan, Jordan Station, Jordan Valley, Jurytown, Katellen, Kempton, Kernsville, Kintmersville, Kleckner, Klecknersville, Klinesville, Kratzers, Kreidersville, Kresgeville, Kuhnsville, Kunkletown, Kutztown, Lamark, Lansford, Laurys Station, Leather Corner Post, Lehigh Furnace, Lehigh Gap, Lehighton, Lehnenburg, Leithsville, Limeport, Liscum, Little Gap, Litzenberg, Lockport, Lower Saucon, Lynnport, Lynnville, Macada, Macungie, Mantzville, Martins Creek, Mauch Chunk, McIlhaney, McKeansburg, Mechanicsville, Merkels, Meyer's Crossing, Mickleys, Middletown, Middle Village, Miller Heights, Miller Station, Moorestown, Mountainville, Mount Bethel, Mountain, Myersville, Nazareth, Neffs, Nesquehoning, New Centerville, New Columbus, New Mahoning, New Ringgold, New Tripoli, New Village, Newburg, Newhard, Newside, Niskey, Normal Square, Northampton, Northampton Heights, North Bangor, North Penn, North Weissport, Odenweldertown, Old Zionville, Orefield, Ormrod, Ottsville, Packerton, Palmer Heights, Palmerton, Parkwood, Passer, Pen Argyl, Pennsville, Petersville, Pleasant Corner, Pleasant Valley, Pompeii, Portland, Powder Valley, Prospect Heights, Quaker Hill, Raubsville, Rauschs, Rene Mount, Revere, Reynolds, Richmond, Riegelsville, Rising Sun, Ritter, Roseto, Ross Common, Rossland, Ruchsville, Rupsville, Saegersville, Salisbury, Sandts Eddy, Saucon, Saucona, Saylors Lake, Saylorsburg, Schnecksville, Schoenersville, Schonech, Sciota, Seek, Seemsville, Seidersville, Seiple, Seipsville, Shimers, Shimersville, Shimerville, Siegersville, Siegfried, Sittler, Slatedale, Slateford, Slatington, Smith Gap, Smithtown, Snyders, Syndersville, South Bethlehem, South Easton, Spring Creek, Spring Mill, Springtown, Spring Valley, Steinsville, Stemlersville, Stettlersville, Stiers, Stiles, Stockertown, Stone Church, Stoney Run, Stormville, Stoudtsville, Summit Hill, Summit Lawn, Sundale, Tatamy, Tohickon, Treichlers, Trexler, Trexlertown, Trouchsville, Uhlerstown, Union Hill, Unionville, University Heights, Upper Black Eddy, Upper Mauch Chunk, Vera Cruz, Wagnertown, Walberts, Walkton, Walnutport, Walters, Wanamakers, Weaversville, Wehr, Weidasville, Weissport, Wennersville, West Bangor, West Catasauqua, West Easton, West Penn, West Weissport, Wilson Borough, Windgap, Wydnor, Zionsville, Zucksville
New Jersey Towns:
Alpha, Baptistown, Bloomsburg, Bloomsburg Heights, Brainards, Carpentersville, Columbia, Delaware Park, Everittstown, Fairview Heights, Finesville, Frenchtown, Greens Bridge, Harmony, Harmony Station, Hillcrest, Holland, Hughesville, Huntington, Ingersol Heights, Kingwood, Little York, Locktown, Lopatcong Tosnwhip, Lower Harmony, Martins Creek, Milford, Morris Park, Mount Joy, Mount Pleasant, New Village, Phillipsburg, Port Warren, Ravenscroft, Ravenswood, Riegelsville, Shimer Manor, Shimers Corner, Spring Mills, Springtown, Stewartsville, Stewartsvills Heights, Still Valley, Straw Church, Uniontown, Upper Harmony, Valley View, Vulcanite, Warren Glen
Telephone Directory - Trenton District - September 1937
(New Jersey Bell Telephone Company, 1937, 186 pages)
This is a telephone directory of Trenton and surrounding areas in New Jersey and Pennsylvania for the year 1937. The directory information includes the resident's name, street address, and telephone number, and this information is arranged alphabetically by town.
New Jersey Towns
Allentown Station, Allentown, Applegarth, Aqueduct, Archertown, Arneytown, Bakers Basin, Berrien City, Blawenburg, Bordentown, Bowne, Broad St. Park, Burlington, Bustleton, Byram, Cedar Grove, Chesterfield, Clarksburg, Colonial Park, Columbus, Cookstown, Cranbury, Creamridge, Crosswicks, Davis, Deacon's, Deutzville, Dilts Corner, Dutch Neck, East Burlington, Edgewater Park, Edinburg, Eilers Corner, Ellisdale, Elys Corner, Etra, Ewing, Ewingville, Farnerville, Fernwood, Fieldsboro, Florence, Florence Heights, Florence Station, Georgetown, Glen Moore, Grovers Mill, Groveville, Half Acre, Hamilton Square, Harbourton, Headquarters, Hedding, Hickory Corner, Hightstown, Hillwood Lakes, Hoffner Tract, Holmeson, Hopewell, Hornerstown, Hutchinsons Mills, Imlaystown, Island Park, Jacobstown, Kingston, Kinkora, Lakeside Park, Lambertville, Lawrence Station, Lawrenceville, Linvale, Locust Corner, Mansfield, Marshall's Corner, Moore, Morris Heights, Mount Airy, Mount Rose, Nelsonville, New Egypt, Orchard View, Page's Corner, Pennington, Penn's Neck, Plainsboro, Plaza Park, Port Mercer, Prallsville, Princeton, Princeton Junction, Prospect Heights, Prospect Plains, Prospertown, Raven Rock, Red Valley, Robbinsville, Rocktown, Rocky Hill, Roebling, Rosedale, Rosemont, Scudders Falls, Sergeantsville, Sharon, Skillman, Slackwood, Snydertown, Somerset, Springside, State Park, Stevens, Stockton, Stoutsburg, Sykesville, Titusville, Trenton, Union Valley, Vanlliew's Corners, Washington Crossing, Wertsville, West Tenton, White Horse, Wilburtha, Winsor, Woodsville, Wrightstown, Wyckoff Mill, Wycombe, Yardville, Yardville Heights
Pennsylvania Towns
Aquetong, Brownsburg, Buckingham, Center Bridge, Edgewood, Fallsington, Lumberville, New Hope, Penn Valley, River Mawr, Roelofs, Solebury, Tullytown, Woodside, Wycombe, Yarkley
---
We Also Recommend
---