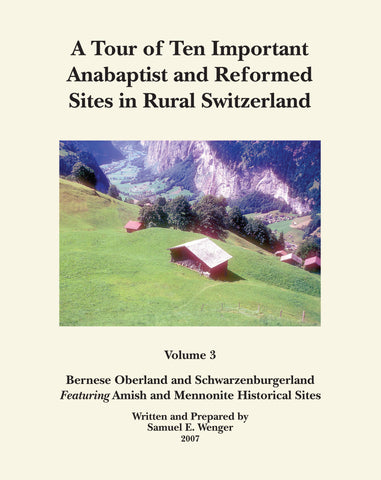 A Tour of Ten Important Anabaptist and Reformed Sites in Rural Switzerland Volume 3
"Bernese Oberland and Schwarzenburgerland Featuring Amish and Mennonite Historical Sites"
In this volume you can visit the north and south sides of Thunersee, Jungfrau region, Amsoldingen Reformed Church a former Roman basilica, Blumenstein, Ruschegg, Guggisberg, Wahlem Church in Schwarzenburg, Schwarzwasserschlucht, and Winterkraut. Learn about families such as Beiler, Hostetler, Mast, and Wenger. Also included are helpful tips for organizing your own Anabaptist or family history tour! (277pp. illus. index. Masthof Press, 2007.)
Also available in a full-color edition (#3225).
---
We Also Recommend
---